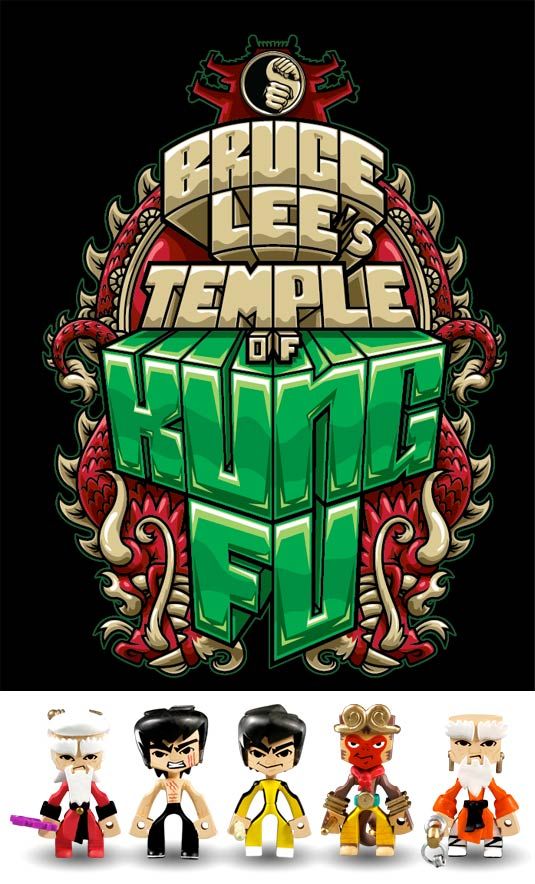 You may recall our UFC figure giveaway
HERE
a few months back with the folks over at
Round 5
, and in that post we had mentioned that they were teaming up with an artists in the designer toy community... well the time has come to officially announce that they have called upon the skills of art toy design legend Jeremy Madl, aka
MAD
, on their first ever release of Round 5 X Bruce Lee X MAD figures and the debut of
Bruce Lee's Temple of Kung Fu
line of collectibles... HOW RAD!!!
3" blind box assortment of 28 characters
including a variety of mystery characters, and will be available at select retailers around the world. In addition to the standard figures, Temple of Kung Fu will include
hyper-limited chase figures featuring alternative colorways, costume designs, and accessories
, making for a truly unique collecting experience! Oh, and can you say playability... check out all that articulation... SWEET!
The folks over at Round 5 really went all out for this release and they sent a camera crew to Jeremy's home town of Kansas City to do a cool little interview with MAD about his process in creating these new figures, and we even get a really rad glimpse into his home studio! As most of you know I am a HUGE fan of all the work that MAD does, and this project is super exciting. I personally can't wait to see these launched. More info along with teasers and releases will soon follow, but until then... sit back, digest everything above and prepare yourself! Oh, and for those of you lucky enough to be in NYC and more importantly attending
Toy Fair from February 12-15
, you can swing by
booth #4517
to see this new product line in person!