It's not very often you get to review a figure that can all in one fell swoop, make a grown man giggle and look extremely adorable at the same time... well,
Shawnimals
Moustachio plush does that for me. I mean, how can it not... it's a mustache on an even bigger mustache, hahaha... so cool!In the above LIVE video review I did with this figure plush toy, I try to give all you - the consumer - the best all around look at this figure and try to prove to you that you need one in your life!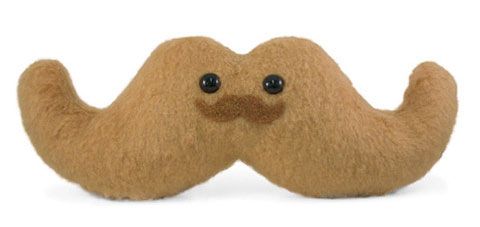 I was able to pick this up at NYCC 2011 last year from Shawn himself and I gotta say, it's one of the coolest plush figures I have ever seen. I mean the majority of figures that Shawn creates via his Shawnimals brand are totally adorable, but something about a giant mustache just gets me. This "Blond" version measure a whopping 14" wide and is made of super soft fabric... oh, and the best part, they are on $20 each... and can be picked up
HERE
. Like I mentioned before, everyone needs this, and then you need to buy one for all your friends... it's a must, especially at that price and do know that there are other colors as well so you can have a whole family of mustached moustachio's!