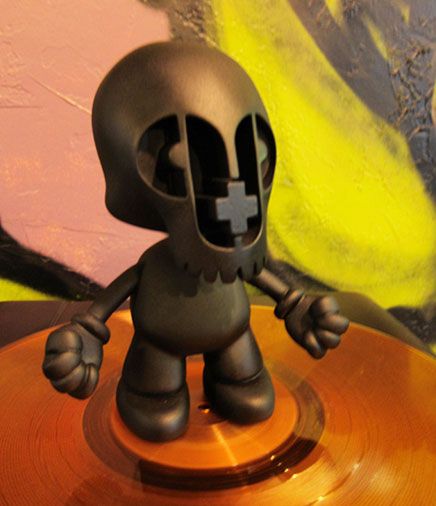 Well we just got sent some really cool news our way from Vinnie F. owner and operator of
Paper + Plastick
who by the way released a whole bunch of toys under the name WUNDERLAND WAR! Vinnie decided to to put his energy to releasing music from like minded individuals believing the lost art of the vinyl record has disappeared. In previous interviews his mantra has been: "
Paper and Plastick started for the bands that still love visual art to go with the music they put out and for the artists that use their creative energy to produce a backdrop of art for record covers, tshirts, screen printed posters and every other facet of a band visually besides the music...
"
To this day that statement couldn't be any more real, and just recently he teamed up with Julie B. over at
PRETTY IN PLASTIC
to release the
PAPER + PLASTICK's
"Skullface" mascot in a rad looking resin figure! This guy stands at
7" tall
, is
limited to only 60 pieces
, and is set to
retail for just $60 each
. This stout fella has some serious attitude, and seeing as it's made by Julie... you know this is quality! Head on over
HERE
now to pick up this limited edition figure... I mean how can you go wrong, that figure looks awesome!