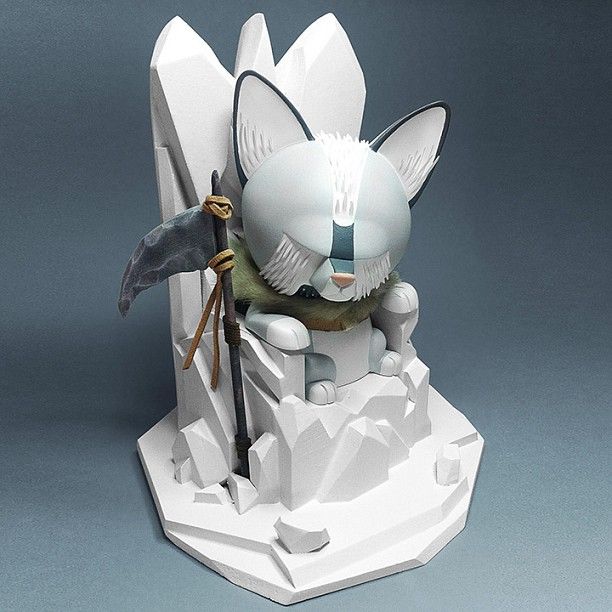 The absolutely superb
Charles Rodriguez
has revealed the simply stunning custom of
Freak Store
's Fonzo figure pictured above… and, due to the timing and platform, we strongly suspect that this is his submission to the
previously announced
Fonzo group show at
myplasticheart
, "Fonzo Love NY." Entitled "Amarok," Rodriguez's radically resculpted version of the 6-inch vinyl platform transforms it into a truly wonderful sculptural work to be displayed proudly. Rodriguez firmly remains on my "artists to watch" list, as I'm certain he'll explode in the next year or two and then his pieces will skyrocket in price!
"Fonzo Love NY" opens on January 11th and runs through February 3rd, 2013 at
myplasticheart
, 210 Forsyth St., New York, NY 10002.
Participating artists include:
64 Colors, ArtmyMind, Andrew Bell, Ardabus Rubber, Aya Kakeda, Alisa Ross, The Beast Brothers, Bonethrower, Burundanga Design, Chuckboy, Camilla d'Errico, Charles Rodriguez, Dave Pressler, DoubleParlour, Fuller Designs, Gary Ham, Greg Mike, Grimsheep, Gabriel Carpio, Brandt Peters, Kathie Olivas, Hydro74, Ian Ziobrowski, Jeff Lamm, Jermaine Rogers, Jeremiah Ketner, kaNO, Martin Hsu, Nakanari, Rsin, Scribe, SouthernDrawl, Scott Tolleson and Thomas Han.