Martin Hsu teases his Puffer Puss prototype (and release) - say that 10 times fast!!!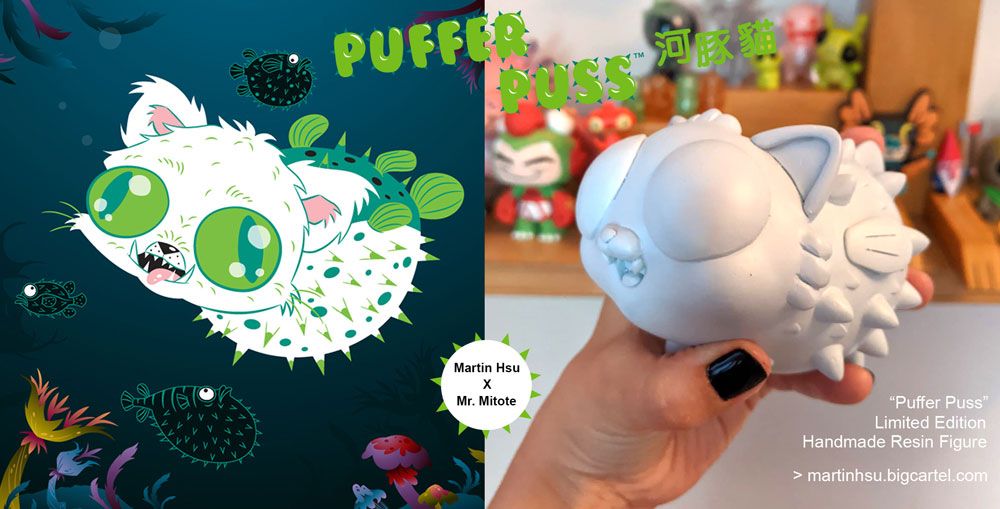 A long time in the making,
Martin Hsu
is excited to share the final prototype for his brand new original resin figure, please meet Puffer Puss! "
Puffer Puss is a baby kaiju purrmaid made of 1/2 kitty and 1/2 puffer fish. Like most domestic house cats, Puffer Puss loves to snuggle even though they're covered in spikes! Not your typical Disney cat mermaid, Puffer Puss loves being different and is happy being exactly the way they are.
" An adorable story for an adorable figure... does it get any better then this?!?!
Martin first created Puffer Puss along with their CRAKEN friends for a 2-person show at Rotofugi back in 2011 (posted
HERE
). Now 9 years later, he's excited to finally bring Puffer Puss to life! Puffer Puss Limited Ed. Handmade Resin Figure in what is being called the Original Colorway will be limited to 15 pcs worldwide and he stands 3" x 3" x 4.5" Fully painted (see below)Signed and numbered. Each piece includes cat collar with bell. Designed by Martin Hsu Sculpted, painted, produced by Mr. Mitote in Mexico City - pre-order kicks off now (10 pcs) and to get in on the action, you need to contact Martin through his online Shop
HERE
and then the rest will drop via DCon 2020 release (5 pcs)!