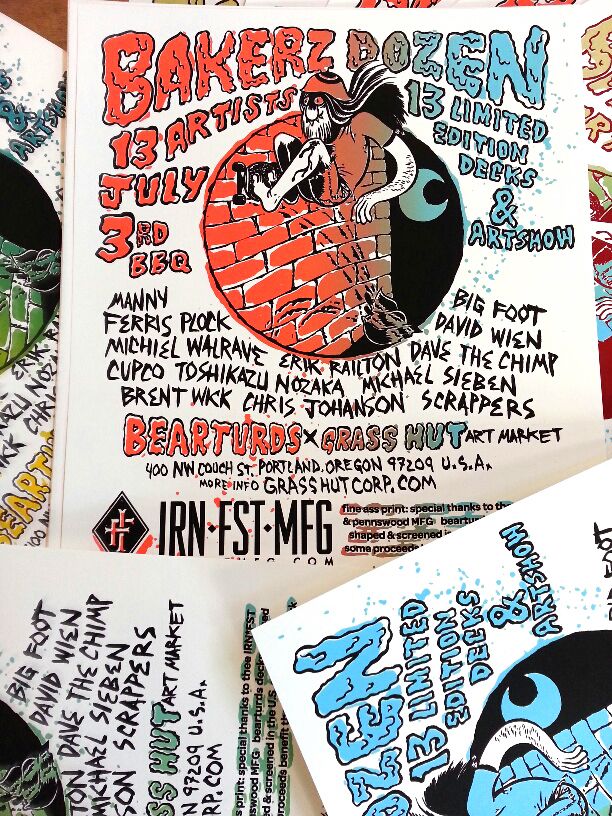 As a fundraiser for the Powell Street Skatespot in Portland, Oregon, locally based
Bwana Spoons
merged his two passions — art (
Grass Hut
) and skateboarding (
Bearturds
) — into one by organizing the "
Bakerz Dozen
" art show! Thirteen artists were each asked to decorate 13 blank cruiser decks (30" length with a 6" tail and 14" wheelbase), with the finished pieces being sold as follows: six of each artists's work is available for presale, four of each are exclusively available the opening night, and three of each are given to the individual artists. If you're interested in pre-ordering one, they are $66 each or $360 for six or $720 for all thirteen, just contact
rainbowmaster [at] earthlink [dot] net
to reserve the copies and make payment arrangements.
But wait, if I'm doing my math correctly then there remains one board from each artist unaccounted for?!? The fundraiser aspect for the skatepark is a raffle, with such cool prizes as IRNFST shoes, Ace trucks, a complete set of the Bakerz Dozen decks! Yes, one lucky fool will with one of each of the thirteen boards. And fear not if you are unable to attend the opening, there are proxy tickets for the deck raffle: tickets are $2 apiece but only sold in groups of 5, so… 5 tickets for $10, 10 tickets for $20, 15 tickets for $30, etc. If you want some, just PayPal the correct amount to
grasshut [dot] corp [at] gmail [dot] com
.
The "
Bakerz Dozen
" group skatedeck art show will open on Wednesday, July 3rd, 2013 with a reception from 6-9PM local time at
Grass Hut Art Market
, 400 NW Couch St., Portland, OR 97209. Participating artists include:
Bigfoot, Brent Wick, Cupco, Ferris Plock, Chris Johanson, David Wien, Manny Aloha, Michiel Walrave, Scrappers, Erik Railton, Toshikazu Nozaka, Michael Sieben, and Dave the Chimp
.