The Vinyl Thoughts Art Show 9 - Saturday Mornings!
The
Vinyl Thoughts
Show returns with a new theme, new night and new venue!! The theme for our tenth anniversary show is Saturday Mornings! They'll be celebrating everything you loved about Saturday mornings when you were a kid with over thirty-five artists customizing vinyl toys you can see and purchase at this one night only art show. This time around, they're road-tripping to Fort Worth and the new event space at Printed Threads.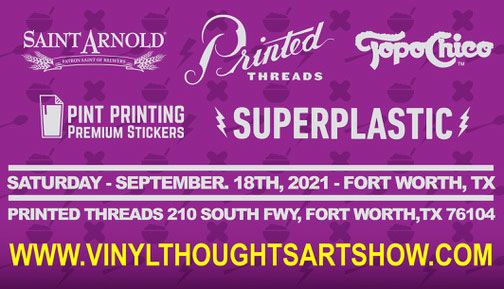 Everything you love about the show is back! Free admission, free adult beverages, awesome raffles, music from Fishr Pryce, lots of surprises and the coolest custom vinyl toys in the South. They've got a custom event shirt designed by Rask Opticon and special limited edition souvenirs that will get you in early. Watch their website
HERE
and join their
mailing list
for all the info!

Brought to you by Superplastic, Saint Arnold Brewery, Topo Chico, Printed Threads, and Pint Printing.

The Vinyl Thoughts Art Show 9 - Saturday Mornings
September 18, 2021
6pm-10pm
Printed Threads
210 South Fwy, Fort Worth