'Summoning Devil' vinyl figure By Spicy Donut... launching soon on Kickstarter!!!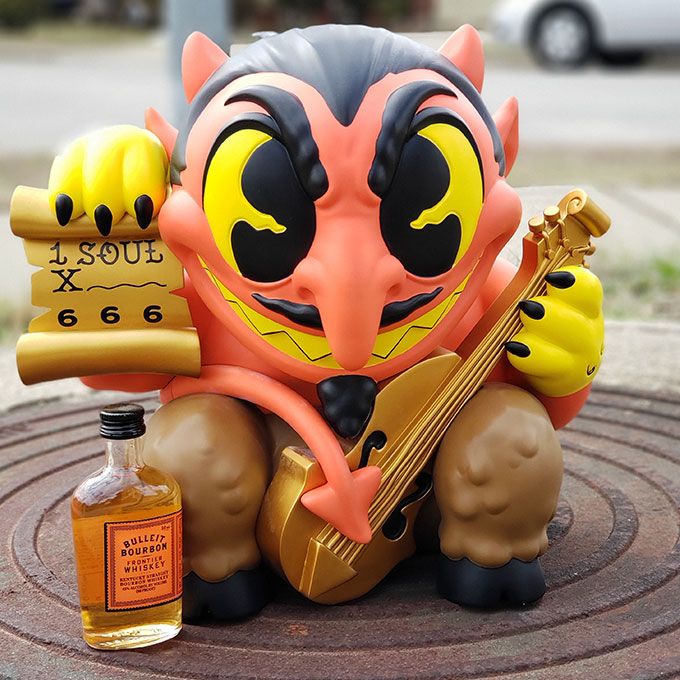 Devin Lawson aka Spicy Donut is an artist from Austin, TX with a flair for classic cartoons and a dark sense of humor. You may be most familiar with his series of horror slashers known as
Merry Murderers
or his series of
Devilish Delights
enamel pins with a kustom kulture kick. Devin has long dreamed of making his own vinyl figure... and he's collected toys since he was a kid and fell in love with art toys. He's painted Dunnys and Munnys, and has been involved with the Designer Toy scene for many years and now... he is in need of our help - Do you wanna sell your soul for this
Kickstarter
?!?!
Making a figure is an expensive process and crowdfunding is the only way he can make it happen... that being said, starting March 15th he'll be selling his soul to every devil he can to make it happen. He teamed up with Aaron White (worked with Mondo to make toys) and they have already ironed out all the kinks, built the protoype, and are fully prepared for production of this 10" tall vinyl figure! Head on over
HERE
right now to sign up to be notified when the Kickstarter goes live... and we will be sure to remind you all as well!