New Splurrt Drops & Toy Raffle for Charity... all from Lulubell Toys!!!
This Saturday, June 27th at 9am Pacific Time,
Lulubell Toys
has got three new exclusive sofubi drops from Splurrt! First up is the
"Marble Madness Cadaver Set"
! This set is cast in mustard yellow, light blue & GID marbled vinyls with just a splash of clear vinyl embedded with gold glitter on top! Painted to match, each set contains one Masterworks Cadaver Kid (approx. 8.5"/23cm tall) + one original sized Cadaver Kid (approx. 3.75"/10cm tall) ! $225+shipping for the set/2, MAX 1 per order.
Also dropping this Saturday: the
"Borealis Peacock Kid"
! Chocolate brown base vinyl with purple, blue, green and silver metallic sprays and hand painted eyes! Borealis Kid features a brand new head and arm sculpt by Splurrt on his original Cadaver Kid body! (Approx. 4"/10cm tall) $85usd + shipping, MAX 1 per order. Last but definitely not least is the beloved Cinema Monster sculpt! New
"Red Eye Monster"
version features yellow and black marbled base vinyl with red, black and silver spray and hand paint detailing! (Approx. 10"/25cm tall, includes $140usd + shipping, MAX one per order. All new Splurrt drops are limited & subject to quick sell out, so we will be enforcing a strict MAX 1 per figure per order/Paypal/shipping address, etc.
No pre-sales
! Set those phone alarms now for this Saturday, June 27th, 9 am Pacific / 4pm GMT!!!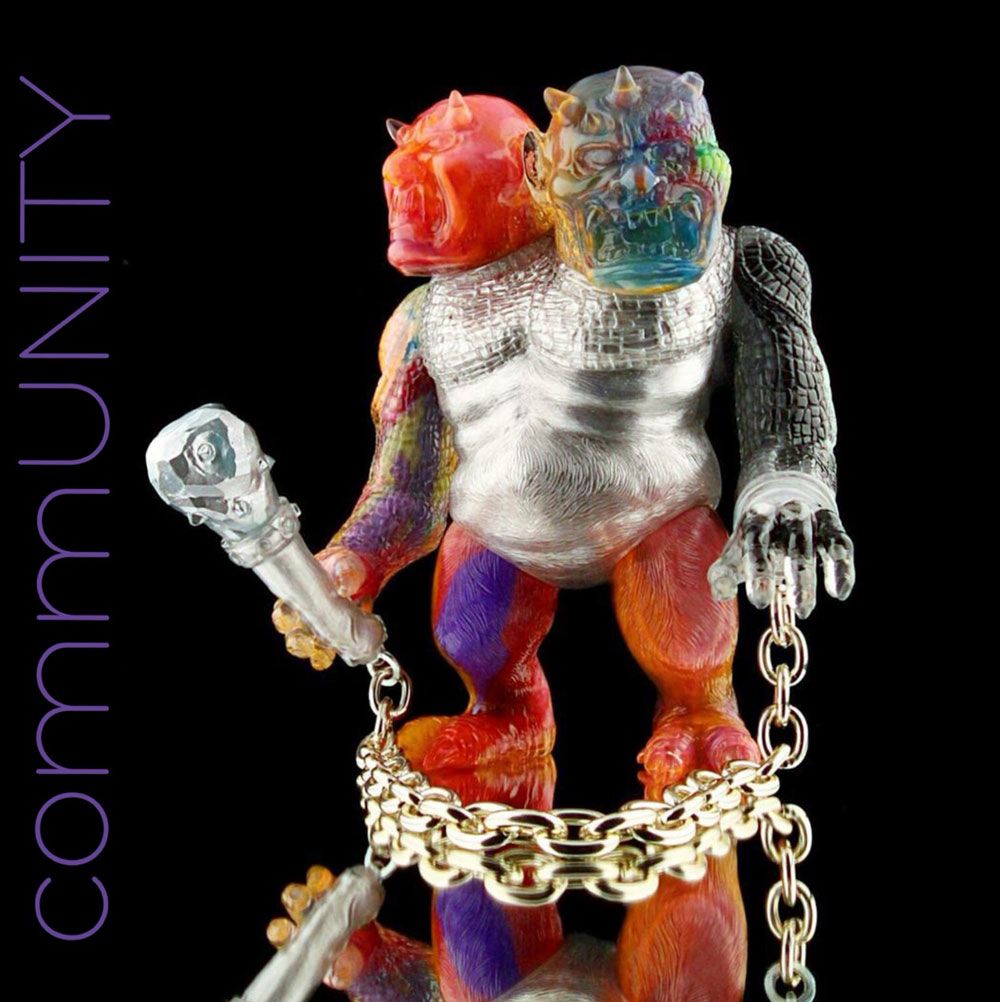 This is really cool... Connell Little, who many of you know as
@phuntsy
on Instagram, generously donated this very special piece from his personal collection to help continue the awareness and fundraising in this time of need. Lulubell is honored to be assisting in managing this raffle on his behalf, but this is all Connell's desire to help! How to enter to win: For every $5 USD dollars donated you will be entered into the lotto to possibly take home this ONE-OFF clear with inner paint Yabanjin, released several years back by Siccaluna Koubou of Japan! You may enter as many times as you like ($5 is one entry, $10 is two entries, $15 is three, etc) and the lotto is open worldwide. Lulubell will cover the shipping costs. Connell's charity of choice for this raffle is the ACLU.
Just two steps to enter:
1. Send payment via PayPal (gift or F&F) to: https://www.paypal.me/lulubelltoys
2. Screencap the donation and send photo in an email to amy@lulubelltoys.com
The lotto is open now and will close on 6/26/2020 at 5:00pm PST. A winner will be selected randomly & posted to Instagram via @phuntsy &
@lulubell_toys
accounts that evening! Thank you again to Connell for his generous donation, and to Robert Howell of
Manic Images
for donating his photo skills!