Clutter presents: Ron English POP-UP Party with The Big Poppa Vinyl Figure release announced!!!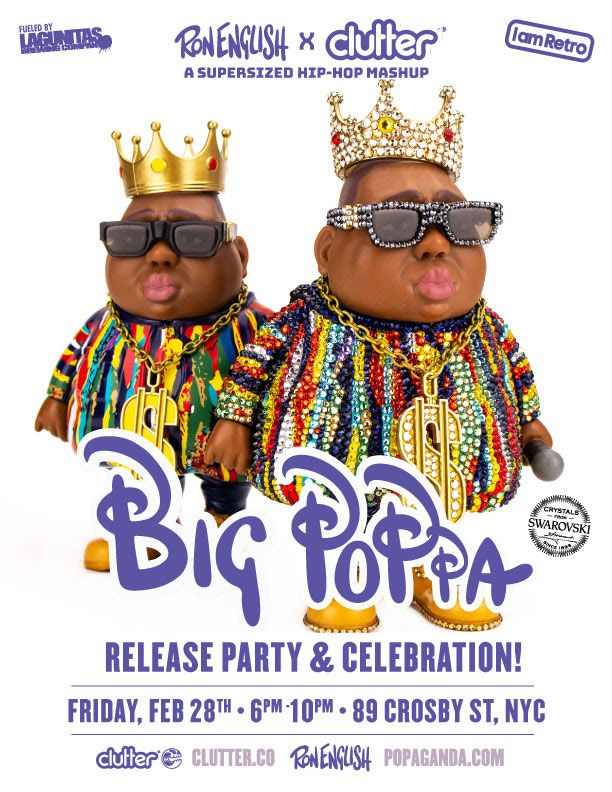 Join the
Clutter
crew on February 28, 2020, at 6pm in SoHo, NYC to celebrate the amazing artwork of
Ron English
with some very special exclusive releases! English's most iconic figure, The McSupersize, meets the greatest MC of all time... Introducing the ultimate bootleg Hip-Hop Mashup... The Big Poppa, in what is being called the CLASSIC colorway! Limited to just 75 pieces worldwide, the much-anticipated release of the Classic colorway will be available exclusively at this pop-up event!
To celebrate this historic drop, we are also releasing a number of amazing crystalized versions of the Big Poppa with crystals from
Swarovski
as Clutter teamed up with
'I am Retro'
and Swarovski to release a limited amount of Classic Colorway and Gold & Black Big Poppas in all their crystal glory. The Classic Colorway collaboration is fully crystalized, featuring over 4000 crystals each, hand-embellished by the masterminds at Swarovski's design lab in Manhattan. There will only be fifteen of these beauties available and are a MUST-HAVE for any serious collector of Ron English's work. The Gold and Black version is accented with Swarovski crystals for those who just want a taste of bling!