Kidrobot presents: La Flamme 8-inch Dunny Art Figures by Junko Mizuno!!!
Kidrobot
has had the pleasure of collaborating with
Junko Mizuno
on many occasions and they are thrilled to present her latest creation with the "
La Flamme
" 8-inch Dunny art figures. This is an art piece to be held up and examined, turned over and over in your hands so that you may absorb every line that makes up every shape of every creature that adorns this beautiful piece of vinyl art. The Dunnys tattoo-like graphics come together to tell a story in which a scene comes alive with the characters and items that often appear in Junko's artwork.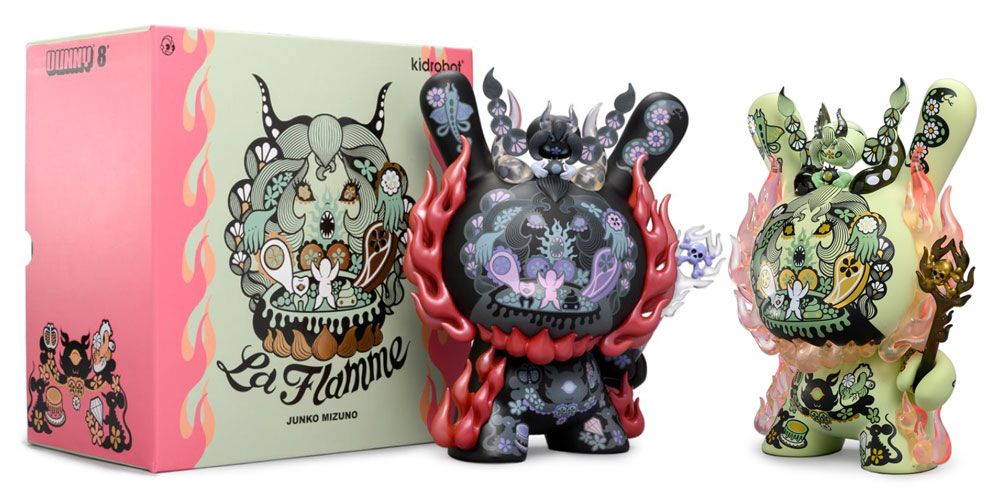 La Flamme is framed with sculpted transparent flames and a wand symbolizing the power and energy of the witch... The rest is for the bearer to tell the story of "La Flamme." Releasing
HERE
at 9am PST starting TODAY - October 11th as two limited edition versions: the
GREEN
edition is limited to 1,000 pieces world-wide and available at select art toy stores or Kidrobot.com while supplies last and the Kidrobot.com exclusive
BLACK
edition is limited to 400 pieces. Don't miss out!