Tako's Revenge 5" Dunny by Fakir GREEN & RED colorways released!!!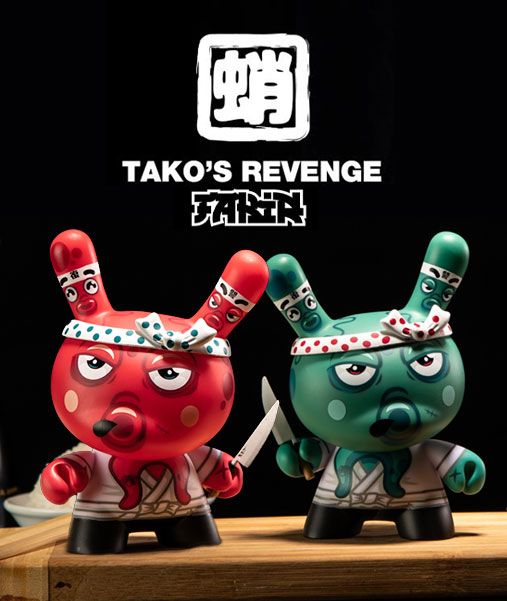 Kidrobot
teams up with French artist Fakir for their latest 5" Dunny:
Tako's Revenge
... an awesome edition to the growing 5" Dunny lineup! "
During a trip to Japan, Fakir asked for sushi advice from an old fisherman who smelled so strongly of fish that Fakir wondered if he himself was from the depths of the sea. His advice led Fakir to a sushi restaurant where you were served as soon as the last customer was finished eating and mysteriously disappeared into the kitchen. We'll leave the rest up to your imagination…
" emerging from the sea at 5" tall with a knife in-hand, Tako's Revenge serves up fresh vengeance and chops his way into your collection this Summer! Check out the video review (posted below) we did of this guy to get a good look at why we totally recommend picking one up!
This
GREEN
edition is a Kidrobot exclusive colorway and is limited to 200 pieces where as the
RED
edition is a retail colorway and can be found via designer toy retail locations worldwide and is limited to 500 pieces. Both retailing for $30 a pop and both released
HERE
right now (Friday, August 30th, 2019 at 9am PST) go snag them up, and while you are at it, grab the exclusive shirt as well!!! Oh, and if you want the AP's for the artist directly, head on over to FAKIR's store
HERE
to see what's still available!