Clutter & Kidrobot announce The FIVE POINTS FEST DTA Dunny Show 2019!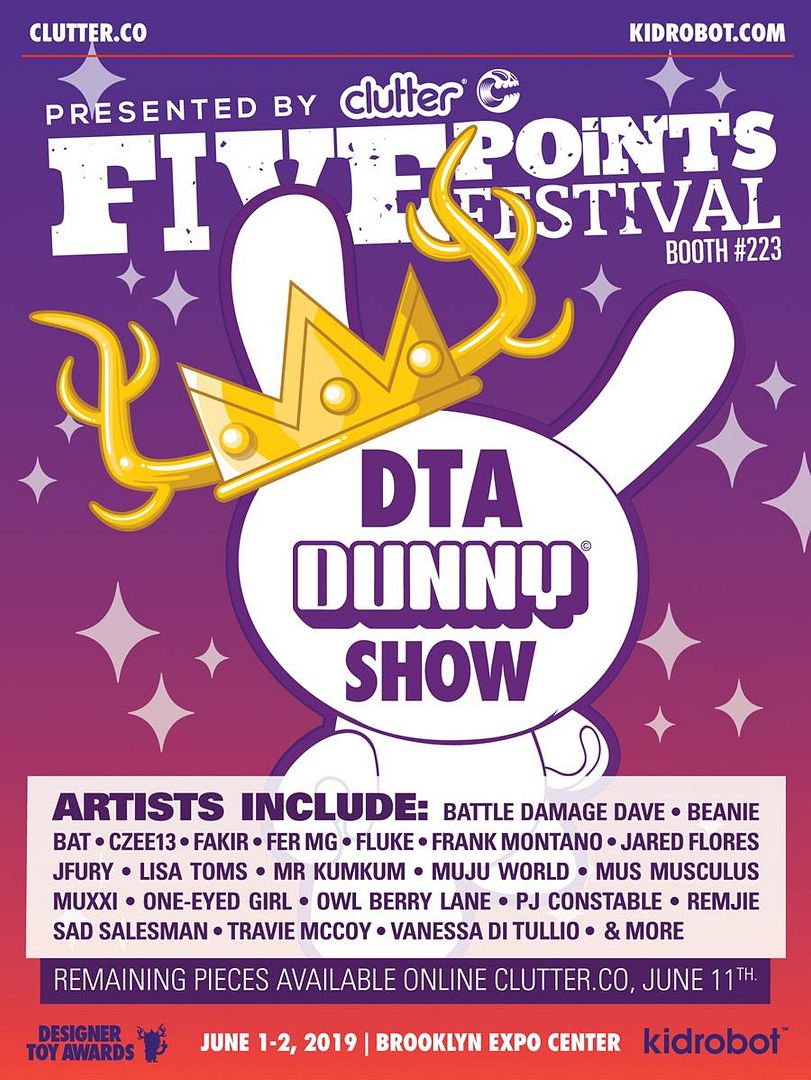 Celebrating the 9th Annual
Designer Toy Awards
,
Kidrobot
,
Clutter
and The Designer Toy Awards have once again teamed up to bring collectors a visual treat - the
DTA 2019 Dunny Show
! Taking place as part of Five Points Festival (June 1 -2, 2019), this show brings together top talent from all over the globe to celebrate the original platform the Dunny! With the aim to expand the market reach of Designer Toys, and to celebrate the effort of all involved, Kidrobot (long time supports of Clutter and The Designer Toy Awards) have once again donated all proceeds to fund the annual awards ceremony. The list of participating artists includes:
Battle Damage Dave • Beanie Bat • CZEE13 • Fakir • Fer MG • Fluke • Frank Montano • Jared Flores • Jfury • Lisa Toms • Mr KumKum • Muju World • Mus Musculus • Muxxi • One-Eyed Girl • Owl Berry Lane • PJ Constable • Remjie • Sad Salesman • Travie McCoy • Vanessa Di Tullio • & More
! A mixture of 5", 8" and 20" Dunny will be on display during Five Points Festival, June 1 - 2, 2019. Remaining pieces will be displayed at The Clutter Gallery (163 Main St., Beacon, NY). Pieces will be first available on the floor of Five Points Fest, then online at
shop.cluttermagazine.com.