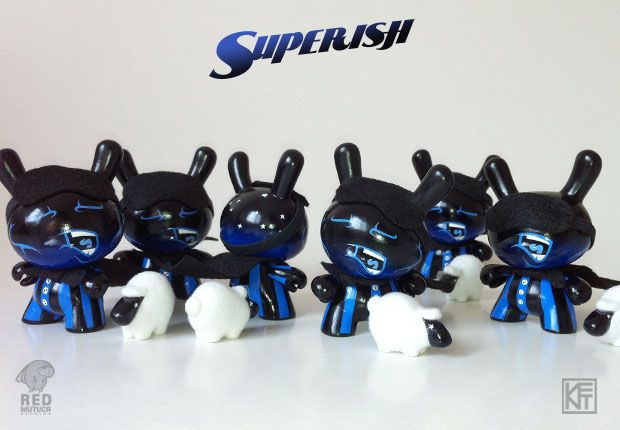 The concept of dream-based superheroics is certainly not a new one: from the Golden Age Sandman, Wesley Dodds, through Legion of Super-Heroes member Dream Girl, there is a long history of sleeping and super powers being fused together. But none of the others are quite like
Igor Ventura
's "Mizzzter REM." And while this character might be sleep-based in many ways, there is a certain element that reminds one more of the black costume Spider-man:
During the day, he's an average Joe; a hard worker, but he has no girls, no friends and no fun.
But then, when the night falls and he is under his sheets, a strange and unexplainable force takes over: his ordinary life is suddenly extraordinary!
Running through the streets, chasing bad guys, bringing justice to those in need! Mizzzter REM, accompanied by his faithful sidekick Leaping Flock, owns the night!
Too bad he can't remember his own adventures when he reads about them in the news…
As pictured above, there appear to be an edition of six using this design for the
previously announced
"Superish" blind boxed custom series organized by
Red Mutuca
. And not only do you get the pristinely painted 3-inch Dunny (just look at those tiny stars on the back of his head!), but "he comes with a sleeping mask, a cape, and a flocked sidekick sheep." Simply stunning.
Superish is a blind boxed custom 3-inch Dunny series that is being organized by the art collective
Red Mutuca
. Contributors include Sergio Mancini, Igor Ventura, Luihz Unreal [
reveal
], RunDMB [
reveal
], Tim Munz, Grimsheep[
reveal
], MAp_MAp [
reveal
], Matucha [
revealed
] and special guest Chauskoskis [
teaser
]. There will only be approximately 35 boxes in the mini series and the (long sold out) pre-order cost $130 per blind box; remaining available blind boxes won't be available until the series is ready to ship (in a month hopefully).