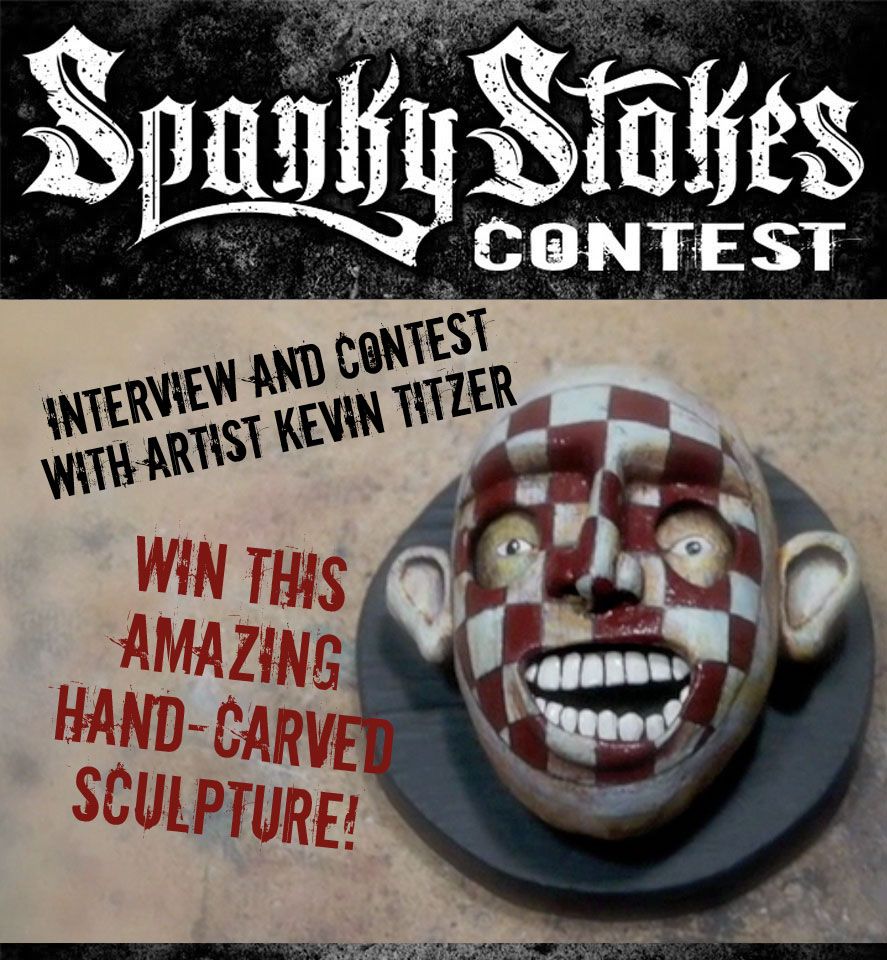 A while back I was contacted by artist
Kevin Titzer
who has since then been featured on SS.com numerous times. I was drawn to his work because it's something different and unique but still falls in line with our culture of designer toys... more so art toys for him as his creations are one-off, hand carved pieces. His amazing sculptural skills are totally mind bending, and fortunately I had the opportunity to reach out to him to ask some questions about his process, how he got started, and what he's got cooking... and as an added bonus, Kevin wanted to
throw in one of his hand crafted pieces for a giveaway
on this site... EPIC!
Wanna know how to win that awesome "
Checkers
" face in the video above... well hit the jump and read the interview, and then at the bottom of the interview there will be a few super simple instructions on how to enter. So go ahead and enjoy the read and enter our contest which will run from now until Saturday, July 16th, 2011!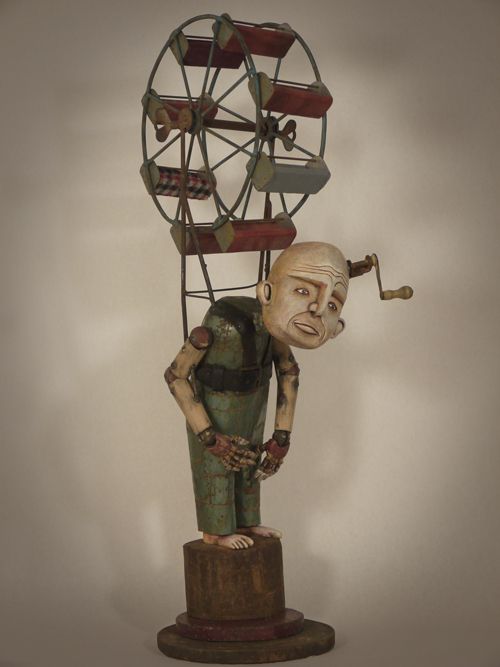 1. First and foremost, please introduce yourself... who is Kevin Titzer, where are you from and what is it that you do?


I was born and raised in southern Indiana, but I currently live in Quebec. I've always made things since I was a kid, but have been making art for a living for about fifteen years now.



2. So you are a sculptor of sorts, more of a craftsman/tinker'er... can you explain your craft to us?


Well, I'd say all three could be used to describe what I do. I predominantly make figurative sculpture. Wood carving plays a big part and lot's of found materials.



3. So you use mostly wood, and other found objects which is really interesting... how did you come about utilizing these materials, and where do you find them?


I guess I just grew up around thrifty people initially. I also just gravitate to old, worn, and rusty objects. It's a comforting aesthetic and I'm really interested in story and history. As for where I get my materials, I always joke they find me. Being a bit of a pack rat helps. I think after a while you just acquire an eye for useable junk and you can find stuff anywhere. I had lot's of places where I knew I could always finds things when I still lives in the States. Since the move I've had to start all over again.



4. What determines the size of each piece, how big/small have you made your characters, and which size best suits you... do you like working on larger scale pieces or smaller ones?


I'd say the idea determines the size of the work. It just depends on what I'm trying to emphasize in the narrative. Some times I want to draw people in to a piece. So I might use intricate detail or small scale. Other times I might bump up the size to encourage people stand back.

I enjoy working both ways. Although I do think there is a limit to how big I can get away with. The tone just changes way too much at a certain point. I have wanted to experiment more with the presentation of my work. Kind of making the whole gallery space into an environment for my guys. So in that sense, I'd like to work really big.



5. The characters you create are rather mind bending to say the least, something that you would normally see in a 2D painting but you are able to bring these figures to life in such a way that captivates the viewer. Who are these characters, and where do they come from?


Thanks so much. That's very kind of you to say. I always try to have a lot of detail in my work. It doesn't always translate well in photographs. Which is kind of frustrating. I'm not a great photographer and I'm always struggling to document my work. It doesn't help that usually a person has to look at my work from a couple different angle to find all the story details. Which means having about five photos to represent on piece. That can get messy and confusing pretty quick. I've had people come up to me at shows and say that the work looks really different in person. So again, thanks for the complement.

As for who these characters are. I don't know, it depends on the day. They just tell the stories that I have a hard time articulating myself.



6. It's totally my pleasure man. One thing that I see, being from more of the designer vinyl background, is that your work crosses over from being very specific to more sculptural/custom based. Some of these pieces you create could very well be produced in limited runs of figures. Have you ever thought of getting your works produced... would that even be an option for you?


Yes, I've considered it and I'm very interested. It would be a nice change. I enjoy what I make now, but it's very time consuming. It would be great to develop another branch of my work. I'd love the opportunity to play with package design and work some different creative muscles. I spend a lot of solitary time in my studio, so the idea of collaborating with other people sounds really fun.



7. Since I had mention designer vinyl, do you collect any? If so what pieces do you have, and are there any vinyl based artists who's work you admire/inspires you?


I don't collect myself. I'm afraid I'd get addicted. So I just admire from a safe distance. There's some really amazing stuff being produced right now. I really love what Blamo is doing. Their work is very cool and they seem to taking their own path. Gary Ham is doing some really fun interesting work. Ashley Wood's Bambaland stuff really knocks me out. I love everything that guy does.



8. Can you walk us through the progress from concept to completion, giving us a general idea of how these ideas come to fruition?


I don't do very detailed sketches. Move of just quick line drawings so I don't forget an idea. I have a box in the studio with a big pile of index cards full of scribbles. I tend to improvise a lot. Until very recently I used to carve all of my guys out of driftwood from the Ohio river in Indiana. Then last Sept. I moved to Quebec and the wood is very different from what I was use to. I had a show deadline creeping up so for the first time I went out a bought wood. I use acrylic paint and varnish for skin tones. People often think my work is ceramic. Sometimes I'll cover the bodies with rusty metal or tin.



9. You have been making these figures for over 15 years now, and I personally have known about your art since July of 2010 where you first showed me your pieces for the Goldesberry Gallery in Houston... can you tell us how your characters have evolved over the years, and are those ideas for figures/character creation still flowing as easily as they were when you first started meaning, as an artist do you get bored with your craft wanting to try something different, to push your artistic boundaries?


Yes, I'd like to explore some new things. I won't go so far as to say I'm bored, but some new challenges would be interesting. I'd like to try my hand at some designing. I have a book of my work I slowly working on. There's few other projects currently on the shelf that I'm just chomping at the bit to work on. There might be some new surprises popping up pretty soon. So keep your eyes peeled.

As for how my guys have evolved, I think their a little less jokey than they use to be. I was thinking a lot about the visual language of silent film comedies at the time. My guys were more often than not the butt of a joke or up to no good. Physically, I use much less tin nailed on the bodies now. I'm getting tired of driving hundreds and hundreds of tiny nails. I hope my carving skills have gotten a little better.



10. Talk to us about your body of work for you most recent show at Thinkspace Gallery titled "Ghost of a Chance", and what does this show title mean?
It's the title of a very loose storyline with this body of work. Although it's only in my head and not at all important to viewing the work. The only real reference to it is with the titles. I included chapters, so I guess there is a sequential order to them. I'm much more interested in hearing the stories other people would come up with. Kids have told me the best stories while looking at my work. Maybe I'll write some of my stories down some day.

11. All of the pieces from that show are so visually striking, and if I had to pick out one to talk about I would almost have to take a dart, close my eyes, and throw it at a wall with pictures of each piece to help me choose... they are all that good, but to single one out, I would love to ask you about your piece "Chapter 1. Obsolescence Road: Traveling With Dodos" (

pic above

) and how you came up with the concept for this?
I have a long time fascination with dodos. They are just such wonderfully goofy looking birds and fun to carve. They are also loaded with baggage which makes them a great short hand metaphor for obsolescence or stupidity. It seems like the world just keeps speeding up at a mind boggling rate and I don't always feel in step with it.



12. One thing I notice about the majority of your works, even in this past show, the one common factor they share is the face... what is the significance of this... if any?


I'm just generally interested in the stories people carry around with them. People also naturally gravitate to the figure and to faces. So it's a familiar and accessible jumping off point to start a narrative.



13. So can you give us a little glimpse on whats on the horizon for yourself and your work?


The next thing coming up for me is a group show that I'm curating. It's called "Dig for Fire: art inspired by the Pixies". Each artist in the show will interpret a song from the band. C.A.V.E. Gallery in Los Angeles will be hosting the event and will be co-presented with Thinkspace Gallery. It all goes down Sept. 9th. Thirty two artists are in the show and I'm so happy with the line up which includes:

Chris Berens, Dan May, Ben Kehoe, Craig LaRotonda, Chris Sickels, Johnathan & Valerie Nicklow, Douglas Miller, John Casey, Jason Limon, Shaunna Peterson, Rik Catlow, Ojimbo, Chris Cole, Aya Kakeda, Jenny Bird Alcantara, Ale Siniestro, Jeremy Pruitt, Tim McCormick, Annie Owens, Eric Eaton, PJ Fidler, Lee Petty, Eatcho, Macsorro, Craww, Tom Haubrick, Allison Sommers, Kelly Allen, Kathleen Lolley, Sergio Mora, Robert Hardg