THE LITE TOYS Pop Up Show announced... this is going to be LIT!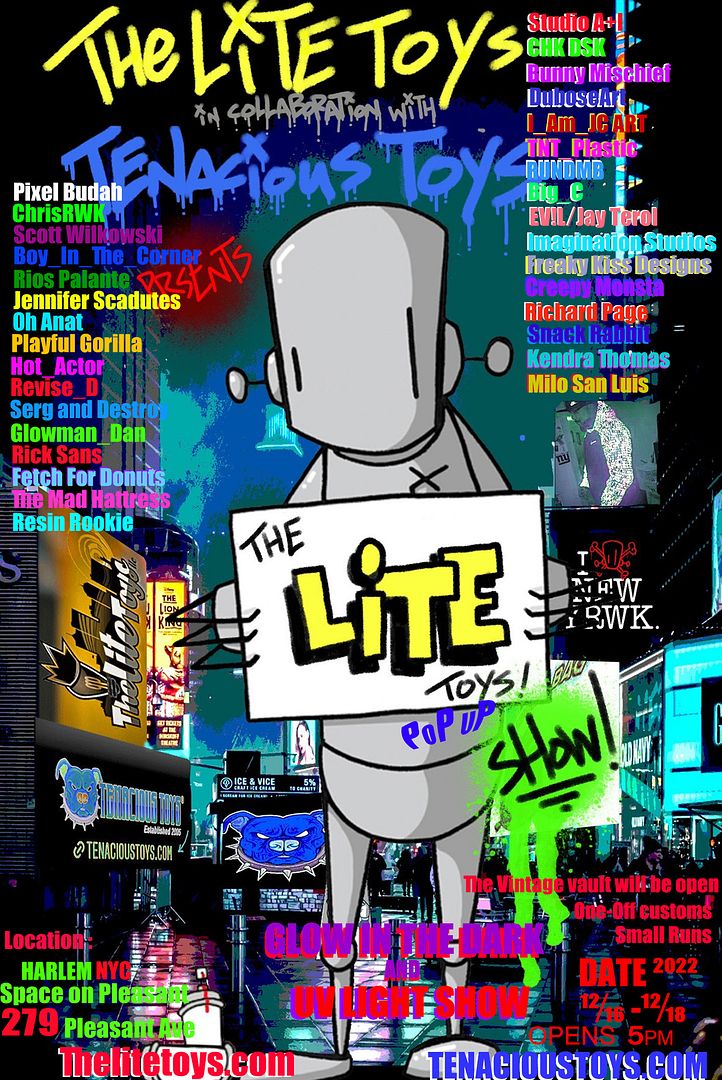 The Lite Toys
in collaboration with
Tenacious Toys
presents
THE LITE TOYS Pop Up Show
in NYC kicking off on Dec 16th! THE LITE - the natural agent that stimulates sight and makes things visible! The LITE TOYS SHOW will feature one off custom toys as well as several small runs of resin figures that light up or glow in the dark or under black light - a visual feast for your eyes! The artist roster includes:
Big C, Boy in the Corner, Bunny Mischief, CHK DSK, Chris RWK, CreepyMonsta, DuBoseArt, Elusive Arts, Fatdad's Toys, FatOh, Fetch for Donuts, Fett Up Toys, Freaky Kiss Designs, Glow Man Dan, Hot Actor, I am JC, Imagination Studios, Jay E!vl Terol, Kendra's Customs, Mad Hattress, Milo San Luis, Nomes, Pixelbudah, Playful Gorilla, Resin Rookie, revise_d, Richard Page UME Toys, Rick Sans, Rios Palante, RunDMB, Scadutes, Scott Wilkowski, Serg and Destroy, Snackrabbit, Studio A+I, and TNT Plastic
- what a great lineup!

Also available for purchase at the show will be pieces from The Vintage Vault, going back a decade or more - rarities that almost never see the light of day but will be available and on hand for discerning collectors to purchase and take home. In addition, several current art toys from the Tenacious Toys website will be available for purchase at the show, including:
Skinny Caps, Cryptozoo-Fubi, Danger Dogs
and many other items. Get lit up December 16th! Show runs December 16, 17 & 18 from 5-10PM.
LOCATION:

Space
279 Pleasant Ave, New York, NY 10029