Quiccs x Stormy Vault - "Mariko" group custom show!
No rest for the weary... and the folks over at
Stormy Vault
are ramping things up once again with an awesome group custom show... the
Quiccs
x
Stormy Vault
"Mariko" Show! Launching this weekend, October 23rd (Saturday) at 8PM to 10PM EST via Facebook Live - hit the link
HERE
- Quiccs and Stormy Vault are taking Mariko to NYC and this figure has been customized by international artists in their signature styles!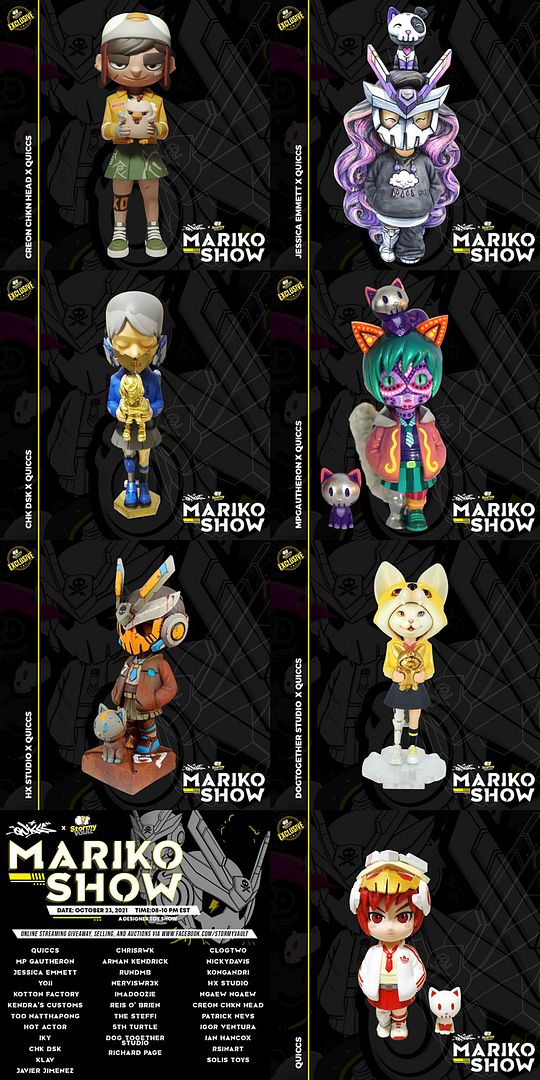 Bringing in the storm with a night of online selling, auctions, and giveaways... and you won't want to miss a very special guest appearance right from Metro Manila, Philippines... the man himself, Quiccs! The "Mariko" Show will feature works from:
@quiccs,@iky.z, @jessica_emmett, @mpgautheron, @kottonfactory, @_yoiiii, @pakka7, @kendrascustoms, @hot_actor_, @klav9, @chk_dsk, @javierjimenezxl, @chrisrwk, @armankendrick, @reisobrien, @5thturtle, @the.steffi, @dogtogether_studio, @richpage, @clogtwo, @nickydavis, @ihancox, @rsinart, @solis_toys, @kongandri, @hxstudio, @ngaew.ngaew, @rundmbvinyl, @nerviswr3k, @igorventura, @imadoozie, @chknhead, and @patricknevs
... and just check out the pictures of Mariko custom by
Quiccs, Jessica Emmett, MPGautheron, Chk Dsk, Creon Chkn Head, Dog Together Studio, and HX Studio
that have been posted above! Don't miss out on this event, it's gonna be awesome!