Martian Toys at Dcon 2020... virtually awesome!
The folks over at
Martian Toys
are pulling out all the stops for Dcon 2020 online this year and have some amazing things up for grabs to all those in virtual attendance. What can you expect, well... all the stuff listed below along with some surprises as well - so let's kick things off!
MEGATEQ Sketracha 12" Artist Series 2
By SketOne x Quiccs x Martian Toys Ed. Of 399 (Mega Sketracha - only first 75 available @ Dcon. It's an advance on the official drop for TEQ Tuesday the 17th) •
Clarity Teq63 Clear Blank DIY 6"
By Quiccs x Martian Toys $75 •
Tropic Threat MicroTeq 3"
By Quiccs x Martian Toys $50 •
Rumpus: Stinger Division Endgame Squad 6"
By Scribe x Quiccs x Martian Toys Ed. Of 150 $90 •
PJ the Pigeon: Brook'Nam Blue Endgame Squad 6"
By Zero Productivity x Quiccs x Martian Toys Ed. Of 150 $90 •
KUB: Honor Amongst Crooks BLUE
Martian Toys Exclusive By Quiccs x UVD $100 Ed. OF 63 •
Symbiosis: YETI Martian Toys Exclusive
by Sad Salesman x Clutter $85 Ed. Of 90 •
Evil Ape Fink OG PURP Martian Toys Exclusive
by MCA x UVD $60 Ed. Of 75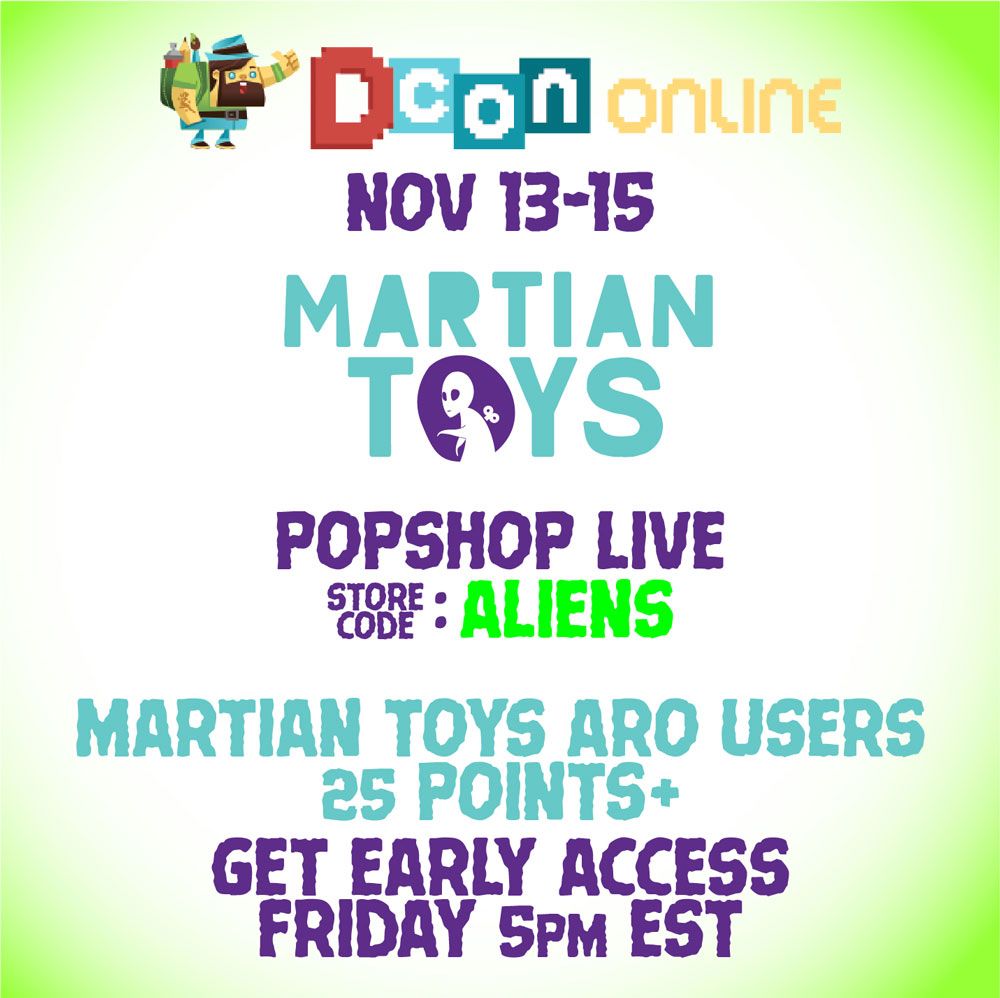 On top of all that stuff,
Martian Toys
will be exhibiting the first customs on the Clarity Teq63 Blank by artists all over the world including:
RunDMB, John Paul Kaiser, The JFo, David Stevenson, Lady Hanna, LoFi Collective, Michael Devera, Mark Nagata, Ghost Fox Toys, Ric Strohmeyer, Deathly Cute Toys and MORE
! Martian Toys will be Exhibiting with LIMITED STOCK DIRECTLY through
POPSHOP LIVE with STORE CODE: ALIENS
- There will be PASSWORDS offered during POPSHOP LIVE VIDEO FEED to gain access to the Martian Toys Dcon Private Page to access their DCON offerings. ALSO, ARO Point Holders will also gain access to their DCON selection without a Dcon Pass. Point Holders with 25+ will have automatic access to these offers and WILL NOT COST ARO Points to Purchase. ARO listings for Dcon Stock will be up 5pm EASTERN - Simply Log in to your account and you can shop through the DCON collection!