Jean-Michel Basquiat Faces Dunny Series 2 from Kidrobot - Unboxing/Review/GIVEAWAY!
"
Believe it or not, I can actually draw.
" Kidrobot is proud to bring a piece of contemporary art into your home with the J
ean-Michel Basquiat Faces Dunny Series 2
. Continuing their celebration of inspirational artists of the 20th century, Kidrobot brings art to life with the second collectible blind boxed 3-inch tall Dunny art figure series on Black Friday featuring the art of Jean-Michel Basquiat. In collaboration with the Estate of Jean-Michel Basquiat, Kidrobot presents the Jean-Michel Basquiat Faces Dunny Art Figure Series 2 focusing primarily on the "faces" in Basquiat's works... and wow are these really cool!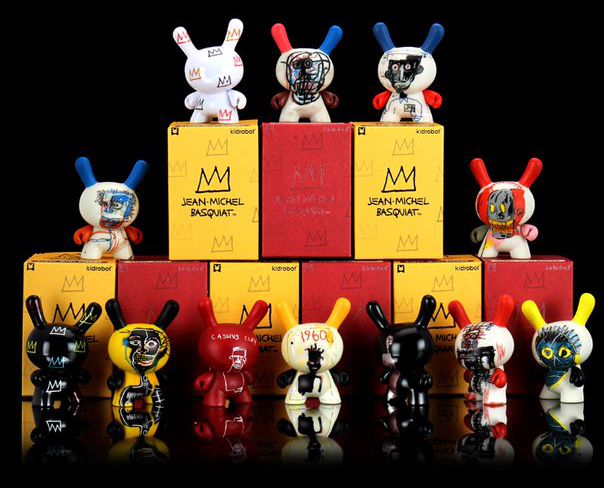 Each premium quality vinyl Dunny art figure in this series depicts a face or imagery from one of Jean-Michel Basquiat's most iconic paintings throughout his short but prolific art career. Each figure is packaged in a sealed security foil bag and a blind box to preserve the rarity and collectability of the collection. This blind box series features 13 individual art figures to hunt down. Retailing
HERE
starting on BLACK FRIDAY at 7am PST for $12 per-blindbox and the first 100 people to order a display case on Kidrobot.com will receive this limited edition Basquiat 1982 gift with purchase Dunny free with their order. You will not know whether or not you are one of the first 100 people until you get your order. The Gift with Purchase Dunny will be a loose box in the same packaging but will say "Jean-Michel Basquiat - 3" Dunny Mini Series – Faces GWP " on the barcode on the bottom of the blind box.
We just recorded a video of our unboxing, check it out above or on our
YouTube channel
OR just watch it above, and all the duplicate DUNNY figures from this series are up for grabs via our new giveaway. All you need to do is head on over
HERE
right now and enter as many ways as possible. We will use the random generator built into this contest site to pick the winner and will ship for FREE to anyone who wins in the USA, but if you are international, we ask that you agree to paying the shipping fee for these (if you do not want to pay for shipping, then we will pick another winner). Good luck to all who enter!