FREE GOODIE FRIDAY!!! Superplastic x Gorillaz - Win an entire set of the newly released vinyl figures!!!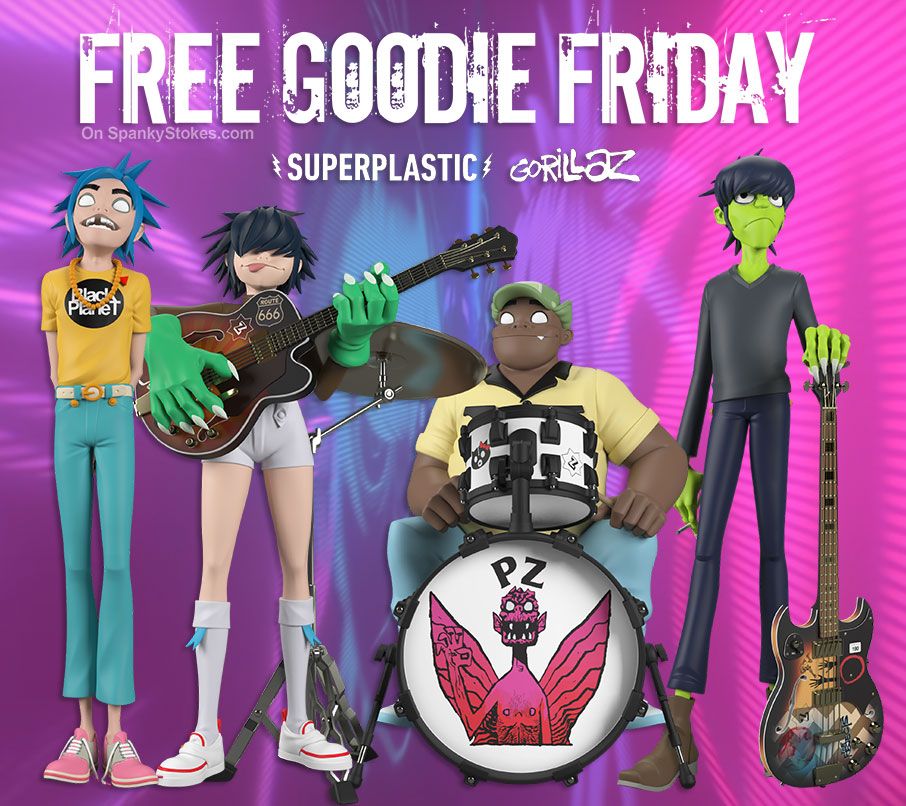 What's up, party people?!?! How are you doing??? Hope well... and it's been a LONG time since we have done a Free Goodie Friday giveaway, like a LONG time, but what better way then to kick things off than with our friends over at
Superplastic
as they have offered up
an entire set - yes, all 4 figures -
of their newest
Gorillaz
vinyl figures:
2D, Murdoc, Russel, and Noodle
- CRAZY right?!? This is an Instagram only contest, so head on over to our Instagram page
HERE
to enter, and once you do, follow these instructions - let's get down to it...
Here's how it works:

1. You need to be following us
@SpankyStokes
&
@superplastic
2. Tag 3 friends in this post who you would start your own band with
That's it... pretty simple right? We'll select winners randomly on November 30th and the folks over at Superplastic will ship out an entire set to you, the winner. Oh, but there is more... second runner up will receive a
Superplastic Gift Card
for their online store - seriously rad! Best of luck to all who enter and thanks to Superplastic for the rad prize package.
After all was said and done, we have 2 winners.... second place, and the $25 gift card to Superpalstic, went to
@Dansdudels
- and the big winner, the grand price of the entire Gorillaz figure set, went to
@Cartist41
- a HUGE congrats to both and thanks so much to Superplastic, once again, for hosting this contest with us!