Vincent Scala & Mr Mars Solo shows opening virtually from CLUTTER!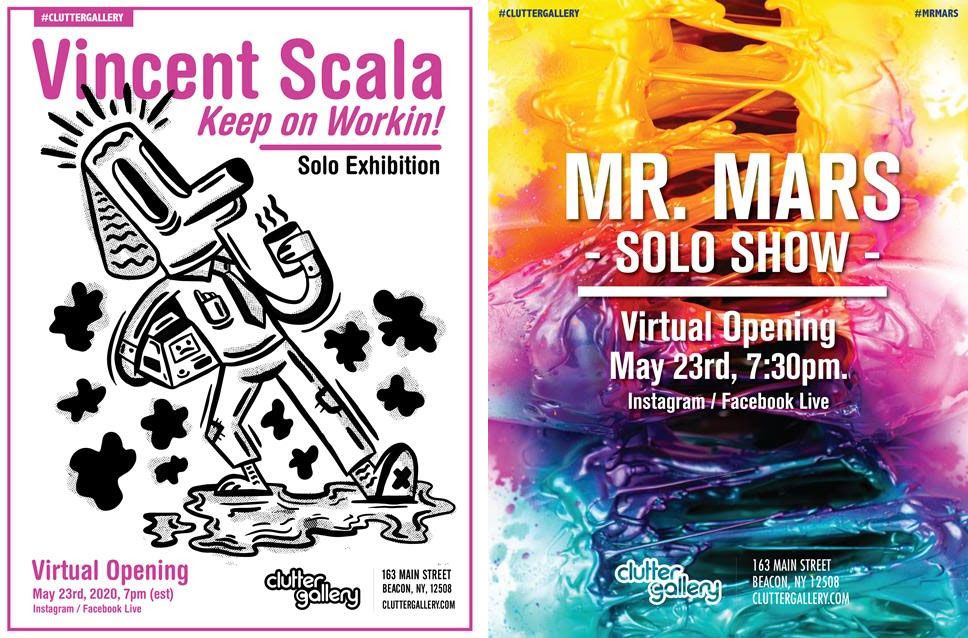 Due to the ongoing worldwide pandemic of Covid-19, these two shows will be
Clutters
first virtual openings:
Vincent Scala; Keep on Workin!
(Watch the live stream with Vincent Scala at 7:00pm EST ) & A bright new solo show by
Mr Mars
(Watch the live stream with Mr. Mars at 7:30pm EST )! Clutter will be hanging the shows, and previewing them as normal, but instead of a public opening, they will be going live on Instagram and Facebook with the artists. You will get up close and personal with the art, from the comfort of your couch!

The works will remain on display until June 9th, 2020, and will be visible through the windows of the gallery (or by appointment if our county is allowed to open up). Sales will be first offered to our Preview list subscribers. To sign up to the list please follow this link:
http://www.cluttermagazine.com/about/gallery-preview-list
- An email will be sent out on Saturday the 23rd, at 12 (noon) est, with a link to preview, Sales begin at 2 pm. So much awesome work will be up for grabs, so don't miss out on the opportunity.