Three-Artist Show at Corey Helford Gallery Featuring aica, Dena Seiferling, and Luke Chueh!!!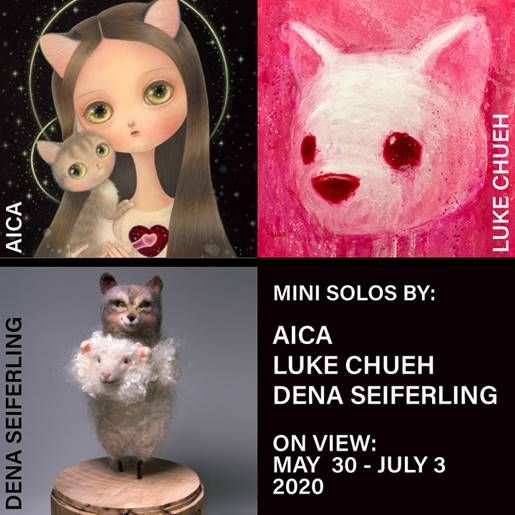 Downtown Los Angeles'
Corey Helford Gallery
is proud to announce a three-artist show featuring new series' from New York-based Japanese artist aica, Canadian-based illustrator and sculptor Dena Seiferling, and established Los Angeles art scene painter and illustrator
Luke Chueh
, premiering May 30th in Gallery 3.
Employing minimal color schemes, simple animal characters, and a seemingly endless list of ill-fated situations, Luke Chueh stylistically balances cute with brute, walking the fine line between comedy and tragedy. Chueh's latest series, entitled Gravity, explores the concept of the "character study" or expressive character portrayals, featuring his signature anthropomorphized "Bear" character (a metaphorical stand in for the artist). Replacing humorous narratives and dark editorials he regularly weaves into his work, Chueh's newest show features "Bear" with a variety of loose and frenetic textures that help tell the story. Chueh shares, "
For a while now, I've been trying to find a way of incorporating the modern and contemporary art stylings I see all around me. I'm particularly interested in creating works where you can feel the 'artists hand,' imagining the way they attack the canvas, celebrating the raw textures and happy accidents.
" The three-artist show premieres Saturday May 30th from 7:00 pm – 11:00 pm in Gallery 3, alongside a solo show from Camilla d'Errico, entitled The Color Wheel, in the Main Gallery and a solo show from DOSSHAUS, entitled POP GOES…, in Gallery 2.
Corey Helford Gallery
is located at 571 S. Anderson St. Los Angeles, CA 90033 and normal hours are Tuesday – Saturday, from 12:00 pm – 6:00 pm.