The Vinyl Thoughts Art Show Blasts Off to a New World!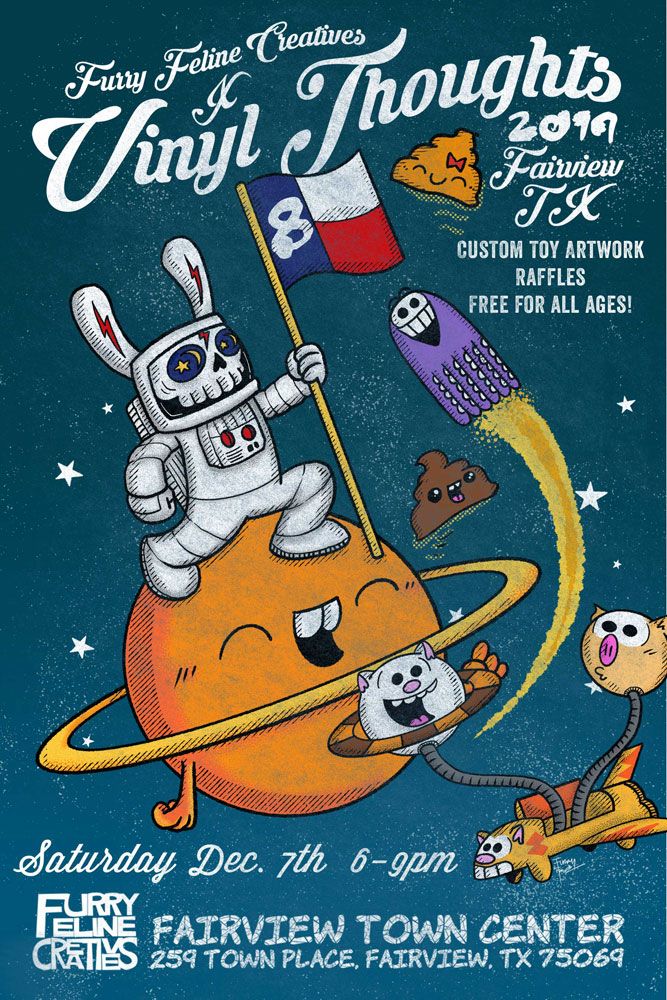 After seven shows and multiple special events in a span of seven years,
The Vinyl Thoughts Art Show
is populating a new world! The Vinyl Thoughts Art Show has become well-known in the custom vinyl toy scene for it's one-of-a-kind art shows in Dallas... on a trip to Designer Con ages ago (before it moved to Anaheim and became the cultural behemoth it is today), Vinyl Thoughts curators Shelby Miller and Cody Phillips met Cheri and Alvin Ong, the brains behind
Furry Feline Creatives
. They had a booth selling hand made custom plush characters that were fleshed out with their own backstory comic strips. It was cute overload. Since then, the couple quit their day jobs, moved to a Dallas suburb and continued expanding the world of Purridge and Friends. Vinyl Thoughts is thrilled to help them open their first retail store and host
Vinyl Thoughts Art Show 8
. The Furry Feline Creatives retail store will open Saturday, December 7 in Fairview Town Center in Fairview, TX (next to Allen Premium Outlets). As part of the grand opening, the Vinyl Thoughts Art Show will be open in that same location from 6:00pm until 9:00pm. You can still expect the focus of the show to be on the art as we help expand the world and characters of Purridge and Friends and I Heart Poop Culture, two brands created by Furry Feline Creatives. You can also plan on the always popular raffles and giveaways.