TOY ART UK is back, BIGGER and BETTER for 2019!!!
Toy Art UK
is back for 2019 - and they are bringing more toys, more art, and more artists. Toy art combines the worlds of toys, collectibles and art to create single desirable pieces of art that look great in many different settings. With references to the world of art, music and pop culture combining in the pieces these artists make - you get stunning and eye catching works of art that seem familiar and strange at the same time. Exhibitors attending on the day include:
Angry Hedgehog - Zukaty Toys - Atomic Toys - Geistwulf - Squink - Grum Reapur - Bill McConkey Illustration - Livrid - Toy Trash - Doktor A - Jay Stelling Art Dolls - The Many Faces Of Laura Penn - Run DMB Vinyl - Fhloston Paradise - Wyrmworld Sculpture - Creature Cave - Kerry Makes Things - Vague Monkey - Mike Strick - Didi Inspired Gifts and Toys - It's a Cyn! - Rach Makes - Toy Bunker - Imps And Things - Doodles N Drips - Map Map - UME Toys - Mimmokie Monsters - Haus Of Boz - Delicious Again Peter - Jaykblu - The Droid Foundry - Monster Ego Studios
!!!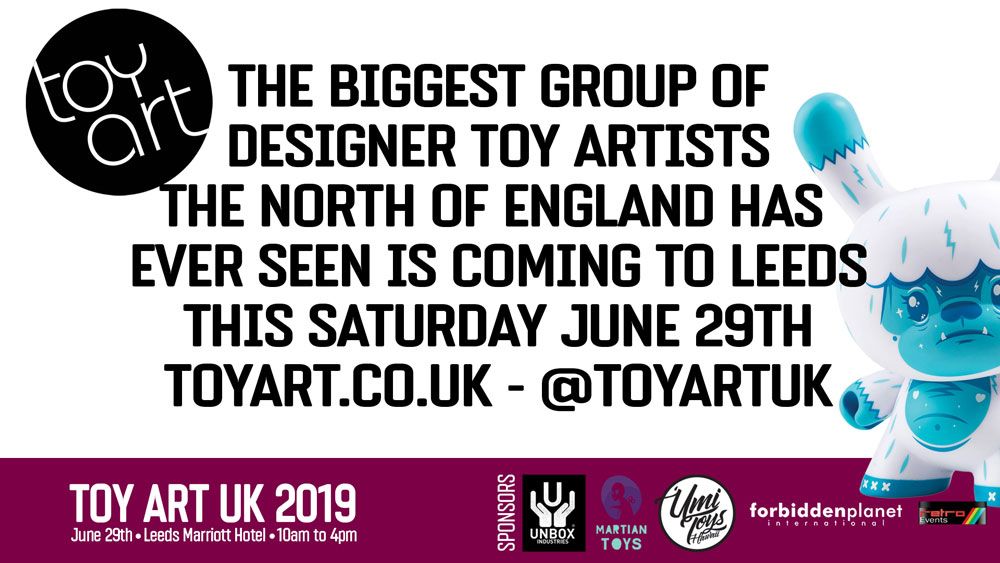 Following their first event in 2018, they asked around and people really wanted them to come back and do it all again, only bigger and better. So now they have a city centre location, more artists and more toy art from the UK and beyond. Come and spend time with the artists who create the most amazing one off pieces of toy art and add to your collection or buy something new and unique for your home. Snag up tickets
HERE
right now!
Websites:
Facebook: https://www.facebook.com/toyartuk/
Instagram: https://www.instagram.com/toyartuk/
Ticket Link - https://toyart2019.eventbrite.co.uk