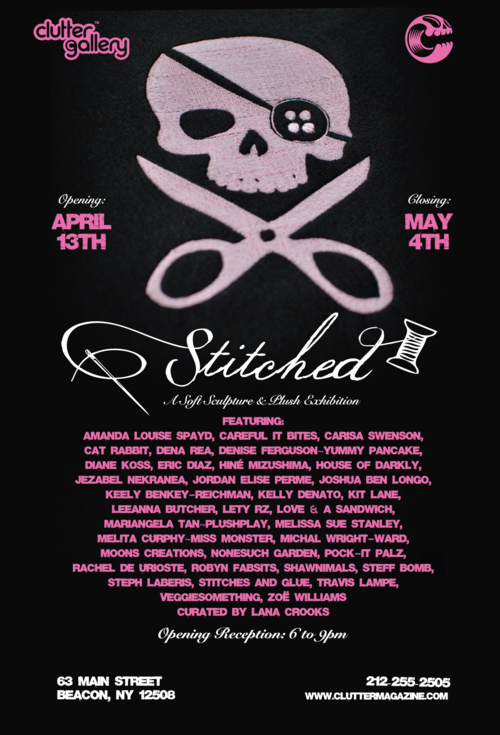 In case you need any other reason to adore
Lana Crooks
, have a look at the insane roster of talent she's wrangled for this show. Really, just LOOK at this! Her latest curatorial effort,
Stitched
is a group soft sculpture and plush exhibition taking place next month at
Clutter's
gallery in New York. And overwhelming talent aside, these sculptors and needle ninjas are among some of the nicest people on the planet:
Amanda Louise Spayd
,
Shawnimals
,
Kelly Denato
,
Carisa Swenson
(Goblinfruit Studio),
Stitches and Glue
,
Jezabel Nekranea
,
Nonesuch Garden
,
Melissa Sue Stanley
,
Steff Bomb
,
Kit Lane
,
Travis Lampe
,
Melita Curphy
(Miss Monster) ... need I go on?! We're talking major love fest PLUS plush and sculpture from all ends of the spectrum, y'all. If you are able to see this show, GO. Truancy is not an option!
Stitched
opens
April 13th
through
May 4th
, with a reception from
6pm
to
9pm
opening night. Given the number of artists from New York, Chicago, Ohio and surrounding areas, I'd imagine quite a few will make the trek to NY (they probably want to ogle all the awesome, too). For a shot at snagging a piece from the exhibit, be sure to sign up for the preview
here
. And also sneak a peek below at some teasers from
Miss Monster
,
Kit Lane
and
PlushPLAY
!