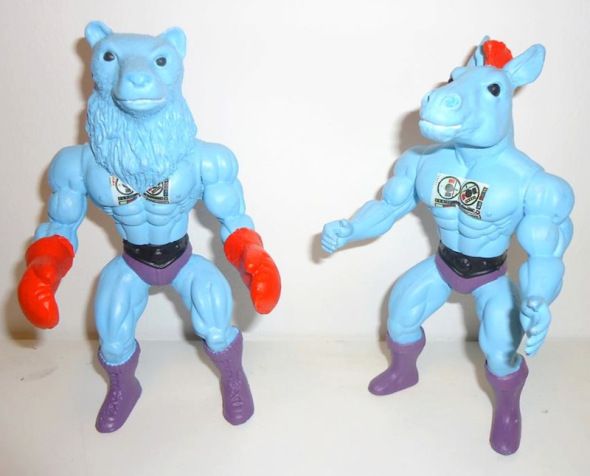 From the Styx Toys
, the outfit helmed by brothers Steve and Tim Seeley, have revealed Steve's contributions to the upcoming "(In)action Figure Show": the "Faker Bear Fighter" and "Faker Horse Fighter." These 5.5-inch tall
Masters of the Universe
inspired pieces are pristinely cast and have been painted in the infamous blue and purple colors of Faker (He-Man's evil clone). Prices have yet to be announced, but these are certainly fantastic additions to this wonderful exhibition.
The "(In)action Figure Show" will open on Saturday, January 12th with a reception from 6-9PM and be available for viewing through February 2nd, 2013 at
The Clutter Gallery
, 163 Main St., Beacon, NY 12508. To get first option to buy from the show, you may want to join
Clutter's Gallery Preview List
.
Participating artists include: 2bitHACK, 4 the Luv of Toyz NY (Cash Cannon), BigManToys, Brutherford, ButcherBrand, Danny Frankenstein, The Disarticulators (Tru:Tek, Zectron & BigManToys), Eric Nilla, From the Styx Toys, Fuei Shokai, Galaxxor (Ben Spencer), Josh Longo, Healeymade, Killer Bootlegs, L'amour Supreme, ManOrMonster?, MonsterPants, October Toys, Ron English, Scott Wilkowski x Sucklord and Triclops Studio.