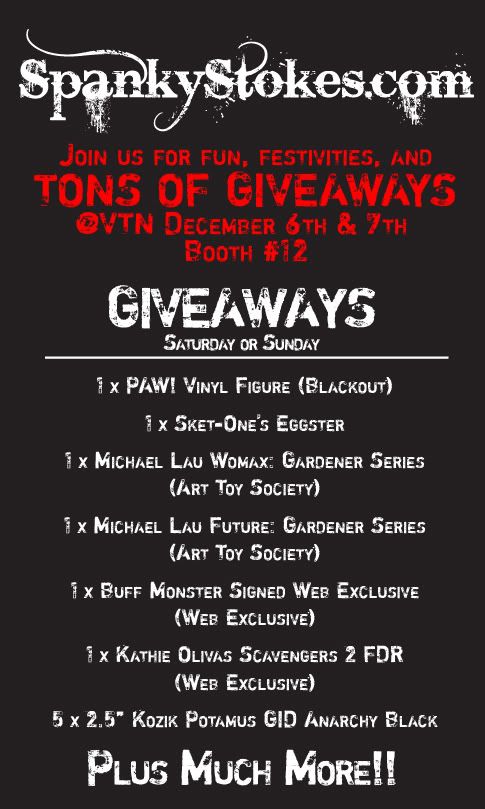 Vinyl Toy Network
is gonna rock...Saturday is going to be off the hook with
Dril
doing sketches, and you get to see some of his amazing customs/art, first hand, up close. You also have a shot at winning a custom 3" Dunny by
Dril
!!!
Also on Sunday non other than
Lou Pimentel
is going to be at our booth #12 on December 7th from 2pm-4pm to do sketches for all yer pretty black books, and he is also flying out a ton of his custom vinyl and other misc art pieces so you can snatch those up while you are waiting for some sketches.
On top of that we have a ton of Vinyl to giveaway as well...I MEAN A TON...and by a TON I mean
"Items above will be
given away

EVERY 2 HOURS

over t
h
e
cou
rse of 2 days"
for free, just come buy, grab a raffle ticket, and be there when your ticket is called. Also throughout the course of both days there will be smaller giveaways
EVERY HOUR
!
Vinyl by Kozik, Coarse Toys, Kathie Olivas, Michael Lau, Buff Monster to name a few of the toys we are giving away!
Everyone is gonna go nuts when they see all the vinyl we are giving away, plus we
get to meet you!!!
!
Huge props to
Wizard Sleeve Toys
and
Tenacious Toys
for their generous donations for this show(without them, none of this would be possible), and to
Dril
and
Lou
for getting together all this stuff and agreeing to grace us with their presence, it is truly an honor! This is going to awesome!
Who knows others artists just might stop by...