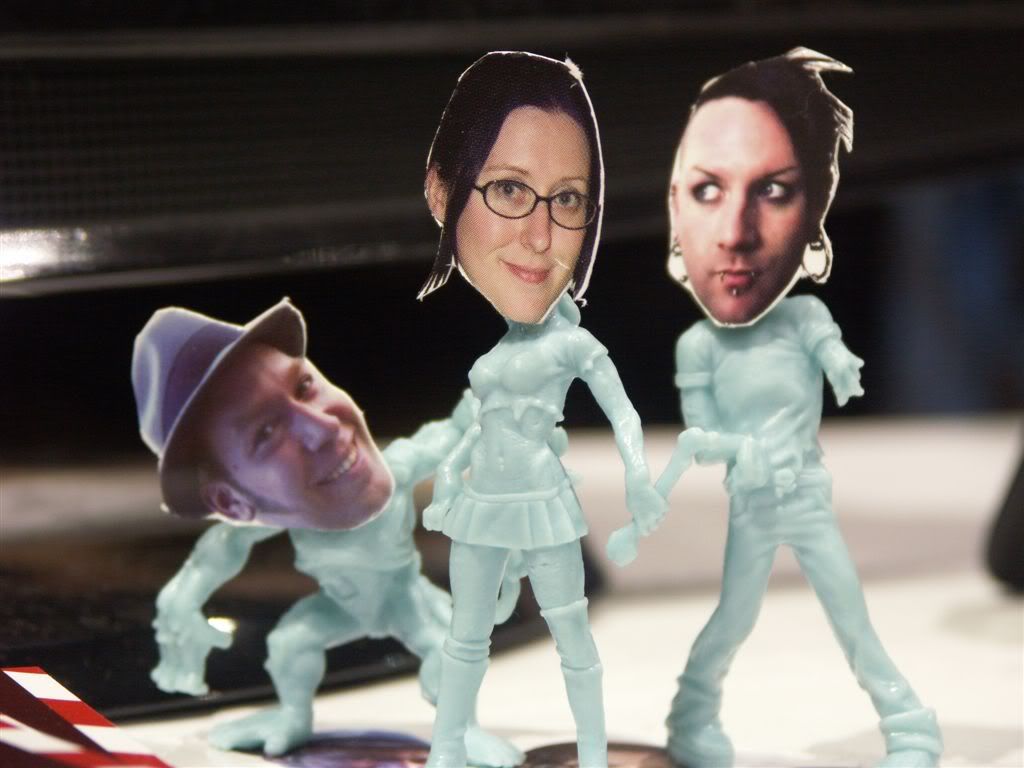 The minds behind
October Toys
and
Toy Break
are nothing but good people, and they were super nice to do an interview with us at SDCC08. I figure today would be the right time to post up the third installment of our interviews seeing as it is October 31st...HALLOWEEN. Where October toys focuses on their main vinyl figure the "Gwin", they also love their Zombies and Ghouls! Also as posted before, a ton of
pics from their booth at SDCC08
!
Below are two audio interviews, the first being of George and Matt and the second of Ayleen, she was off waiting in line for the "Twilight" movie premiere when we first did these, and them below that are a couple quickfire question that George and Ayleen graciously answerd for us. Word has it that Matt was busy helping old women across the street and figuring out the next trip for his Boy Scout troop so he was unable to answer the questions.
First audio file: Sir George McBeardsly & Matt
Second audio file: Ayleen
Seven Quickfire Questions:
1. What is your fullname and/or nickname?


George Gaspar (no nickname)



2. Where were you where born?


Born in Connecticut, raised in NY (I lived on the border)



3. Who taught you the most in life?


I learn a little from everyone.



4. Who is your current favorite band?


Believe it or not, I don't listen to a lot of music. I think I'm the only one in the world. I'll say Beastie Boys if I have to pick.



5. What's your favorite movie?


This is just the opposite of music. I watch everything, so I couldn't pick a 1 favorite movie.



6. What's your favorite food?


Cheese



7. Who would win in a fight, pirates or ninjas?


Ninjas are sneaky and cunning, but Pirates have guns. Pirates.
And here's Ayleen's:
1. What is your fullname and/or nickname?


Ayleen Gaspar



2. Where were you where born?


Southern California



3. Who taught you the most in life?


Alex P Keaton and Oscar The Grouch



4. Who is your current favorite band?


Rancid. Now and always Rancid