Linus & Lenny: The Lung Brothers Collectibles by Looming Doom!!!
Tenacious Toys
and
Looming Doom
have announced a joint drop of the newest Looming Doom designer toys:
The Lung Brothers
! The drop is scheduled for TODAY, December 21 on both of their websites simultaneously. Ship date for The Lung Brothers is slated for February 2021. Are you familiar with your lungs? The vital organs that keep you going day to day. What happens when one of them is an alcoholic, cigarette-smoking narcissist? Well, you'll have to rely on the better-behaved twin to keep everything in check of course. You know what they say, it's what's on the inside that counts... here is what you are working with, as each Vinyl/PVC lung stands 5.15" tall with a combined width of 7" wide.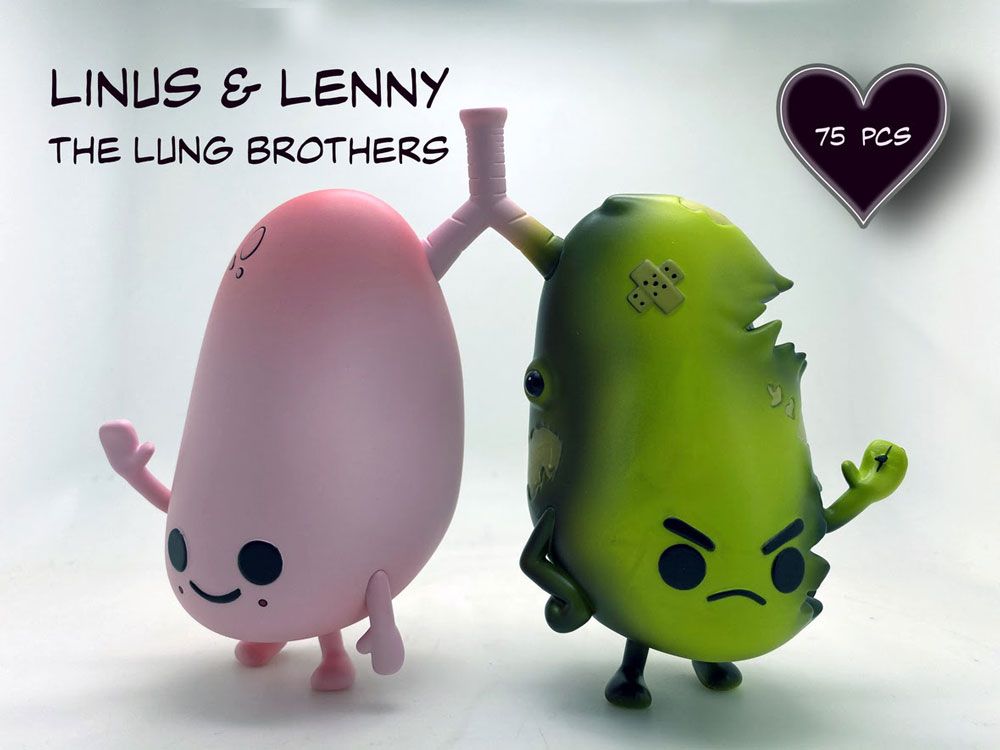 The 'OG' Linus
boasts a healthy pink tone with a super pleasant smile, he's just a big cutie that loves running marathons and reading 15th Century French Poetry. He's the perfect example of a healthy lung. Unlike his brother Lenny! Who features different shades of greens and browns, a rather grumpy expression, and not to mention that he flaunts holes and bandages from his most recent bar fight. The cheeky bugger even has a cigarette in hand! Limited to 75 sets.
The black and white variant
features all of the same sculpted details as their 'OG' counterpart. However, they are completely monotone and limited to just 25 sets. Snag them up
HERE
right now for $95 a pop!