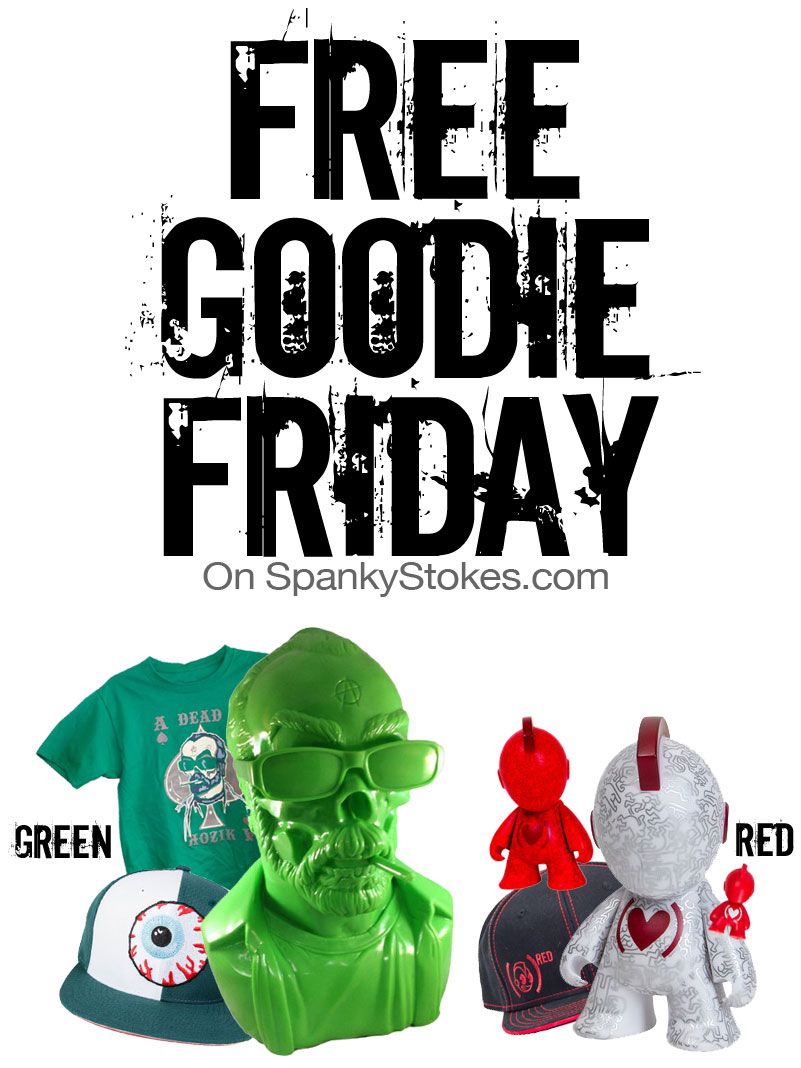 Oh what?!?! It's FRIDAY, and you know what that means... it's
FREE GOODIE FRIDAY
- and we here over on SpankyStokes love to give stuff away... and really the title explains the premise of this, you get stuff for FREE just by following a few simple steps!!! This week, we have an awesome giveaway thanks to the great folks once again over at
Suburban Vinyl
as they have very graciously donated two amazing prize packs in what we are calling the "Red" and "Green" giveaway! Two lucky winners will have the chance at either the "Green" which includes an awesome
Mishka snapback hat, a Kozik x Gosselin "Dead Kozik" shirt, and the massive 15" tall vinyl "Dead Kozik" Suburban Vinyl exclusive GREEN bust -
the "Red" set includes a great Kidrobot themed prize pack that features the new
Keith Haring [RED] 7" mascot Bot, the 3" mascot Bot, the 1.5" keychain mascot Bot, and a Kidrobot [RED] snapback hat
... SWEET!!! Worth participating?!?! I think so!!!! So enough with the talk... these super fresh prize packs will go out to two lucky winners out there... so do you wanna know how to win... keep reading...
1. First up you gotta give Suburban Vinyl a 'LIKE' over on their Facebook page HERE, and then while you are at it, give SpankyStokes a 'LIKE' on our page HERE as well and then LIKE and SHARE this post HERE!
2.Next, just head on over to Twitter and give Suburban Vinyl a follow HERE, as well as SpankyStokes a follow HERE and then send out this tweet: "I just entered to win a "Red" or "Green" vinyl prize pack from @SuburbanVinyl on http://alturl.com/2942s You should enter too! #SuburbanSpanky" - just copy and paste the above sentence, without the quotes of course and be sure to include #SuburbanSpanky because that's how we track your entry... enter only once this way please.
3. This one is for all you Instagram heads... visit the SpankyStokes Instagram page HERE and the Suburban Vinyl page HERE - FOLLOW us... then find the photo with the figures that you see above... and then follow the instructions in it. Make sure to re-post the photo, and hashtag the re-posted photo with #SuburbanSpanky - only enter once this way as well... this is gonna be fun!!!!
4. Finally, this is the BIG one that you all need to do. Just head on over to the Suburban Vinyl site HERE, scroll down to the bottom of the page, and SIGN UP FOR THIER NEWSLETTER... it's a super simple step, and they promise not to spam you... just give you amazing details on great releases, coupon codes, and exclusives!
Now, each one of those steps is an entry... so if you do all of them, you get 7 entries!!!
This contest will end Monday night 1/20/2014 at 10:00pm PST so you only have a few days to get your entries in
, after all is said and done, two lucky winners will be chosen at random and will have either the "red" or "Green" prize pack shipped out to you! A big thanks goes out to the great folks over at
Suburban Vinyl
once again for hosting such a rad contest! Oh, and you all need to hit up their
webstore
... tons of stuff to pickup!!!
Alright folks, I bet you are wondering who the lucky ducks are that won these 2 prize packs... well, chosen at random from all the ways entered above, and both ended up being from the Newsletter sign-up portion,
the winner of the GREEN prize pack was Chris K. and the winner of the RED prize pack was Sillypup
... so congrats, and you will be contacted directly!!! I want to say thank you all once again for entering, and an even bigger thanks to the great folks once again over at
Suburban Vinyl
for hosting such a rad contest!