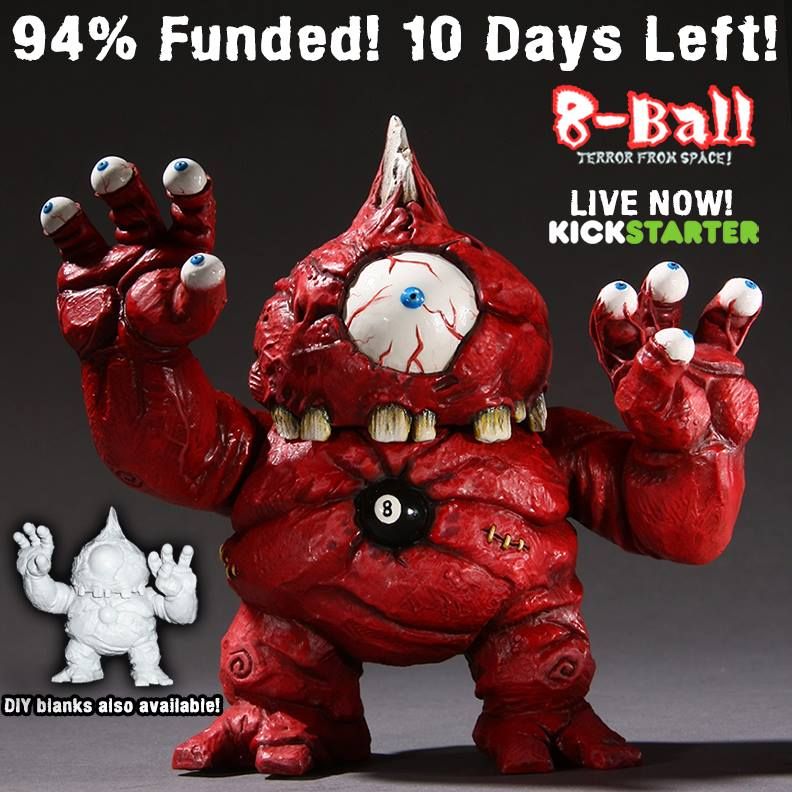 The time has come!!! The Kickstarter for the Radioactive Uppercut "8-Ball" figure
has been LIVE now and is 94% funded with just 10 days to go
!!! If you are all unaware of what this bad boy is, we covered it in a few posts
HERE
, but let's just get a little recap going, shall we :-) After 9 years in the Collectible Toy Industry providing hundreds of award-winning, brand-strengthening products for such companies as DC Direct, Mezco Toyz and Gemmy Industries; John Santagada (the Radioactive Uppercut) is finally unleashing his own original toy line to an unsuspecting public, and "8-Ball", the Terror from Space is the first of hopefully many figures under the 'Radioactive Rumblers' Series name.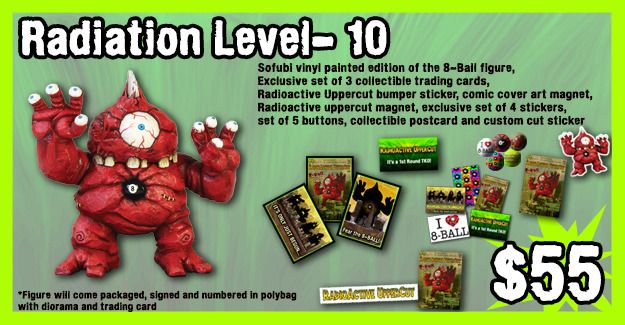 The project, funded through
Kickstarter
, has all kinds of details about it... and here they are! Sculpted by Joshua Sutton at ERA Sculpture, "8-Ball" will be produced in rotocast vinyl, stands at 4 inches tall and features 3 points of 'city crushing' articulation. He will have a pivot joint at his neck and balljoints at both shoulders! The figure will come with a collector's trading card featuring a faux comic cover for "8-Ball" on the front and his bio/stats on the flipside. He will be packaged in polybag with header card, and will be signed and numbered, and will retail for $55, shipping included... a great deal, for a serious amount of detail and paint! Alongside basic 'entry' donation incentives of trading cards, stickers, magnets, original art and of course the standard 8-ball figure; a number of custom one-of-a-kind resin 8-Balls are up for grabs!
Level 9 is just $35 and you get a blank DIY vinyl version, and Level 10 is just $55 and you get the full painted vinyl version of this figure
... so what are you waiting for... help this get 100% funded TODAY!!!