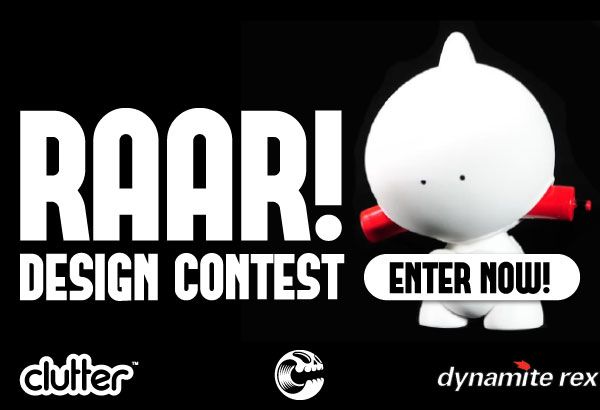 Clutter Magazine
has just announced that they have partnered with the folks over at
Dynamite Rex
to hold a design contest revolving around their brand new "Raar!" figure... the t-rex dinosaur! So how do you enter... by using a blank turnaround template (which you can download
HERE
), design a Dynamite Rex "Raar!" vinyl figure... go to town on this, have fun, but do keep in mind that this design must be able to be replicated as a custom painted vinyl figure. The folks over at Clutter and Dynamite Rex will then
select a winning design based on its originality and creative use of the platform's shape.
Winners will be sent a free blank 6-inch tall "Raar!" vinyl figure to customize using your winning design. This piece will then be mailed by the artist to The Clutter Gallery for inclusion in their custom Dynamite Rex "Raar!" show opening on August 10th... how cool is that?!?!
Closing date for design entries is June 1st, 2013. A winner will be selected within two weeks of closing date and be mailed the blank "Raar!" figure.
Source [Clutter Press]