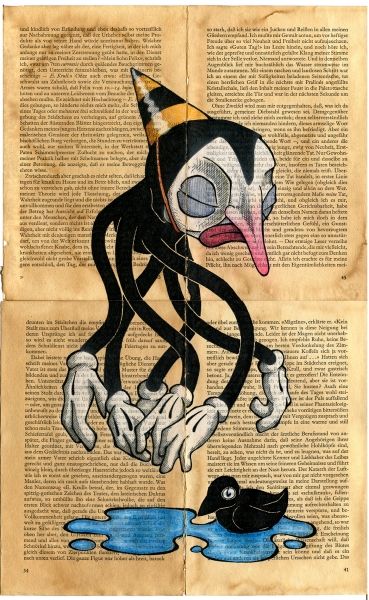 Put simply,
S. Fisher Williams's
work amazes me. A writer and artist based out of Denver, CO, his short stories float off the page with the charming sing-songiness of Dr. Seuss and the tragic air of Edgar Allan Poe, while his drawings resemble monsters Edward Gorey would have conjured had he ever made a creature feature.
Over the course of his career, Williams has done a little bit of everything: rock posters, album art, mini comics, paintings and a series of ink creature drawings that he's since published in his first art volume,
My Legs Are Useless
, and the upcoming
Tonic
, due for release sometime this year.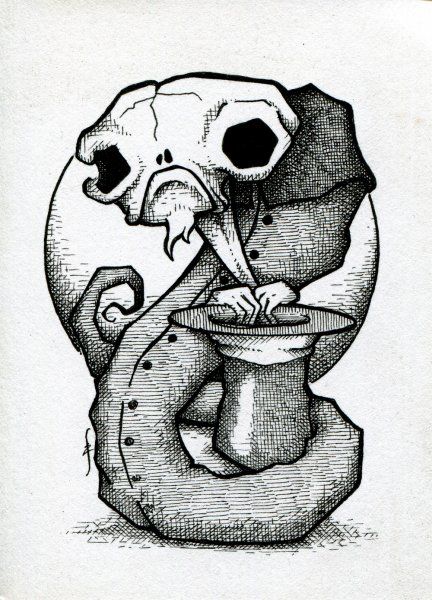 It was these drawings that first grabbed my attention by the eyeballs some two years ago and in the past year, they've evolved, growing larger and more elaborate, gained colour, and have migrated to old book pages. Put simply, amazed is now mother-freaking-wow. And the best part? His work is available to purchase AND it's affordable! Williams just relaunched his
website
a few days ago and is still busy stocking the gallery and store, but if you see something you like,
drop him a line
for pricing and availability. A number of ink drawings are also available in his
Etsy shop
, so feast your eyes and show your support if you can!