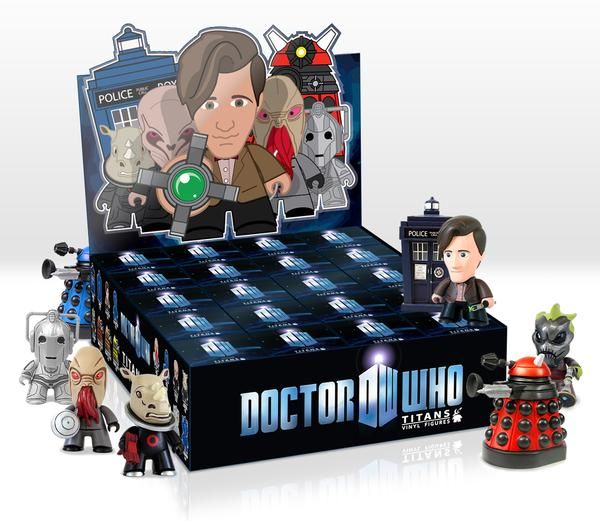 Yes, now you too can have your own adventures through time and space! Introducing the "Doctor Who Mini Series 1" blind boxed vinyl designer toys, an assortment of 16 wonderful 3-inch tall figures as designed by
Matt JOnes
and produced by
Titan Merch
(
Forbidden Planet
's manufacturing arm). Officially licensed from the BBC, you might be able to gather that the focus is the current 11th incarnation of The Doctor (portrayed by Matt Smith). But you want to take a closer look at the pieces, right?

Pictured above, left to right, are: an intergalactic 'cop' Jadoon, a mysterious (and empathic) Ood, the adventurous 11th Doctor himself, one of the Silents from The Silence, an emotionless Cyberman and one of the reptilian Silurians. And, if you look carefully, you'll note the Jadoon's blaster, the Ood's translator device, The Doctor's sonic screwdriver and the Silurian's laser rifle, which are some mighty sweet accessories!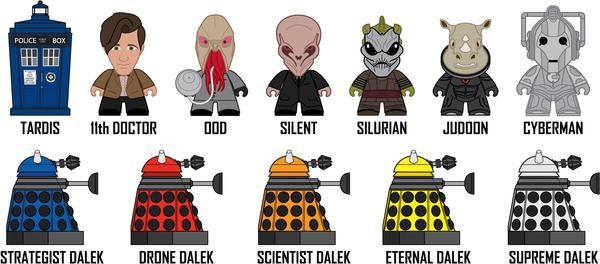 Above are the vector designs for the main figures, but obviously no reveal of the four chases. The Daleks are based on the new paradigm designs rather than the classic look, which is what I would've preferred to see… though, either way, I understand that inserting the eyestalk, death ray and telescopic manipulator arm might not be a simply 'push into place' scenario, rather it requires actually heating the vinyl of the figure to soften it up. I'm sure we'll survive!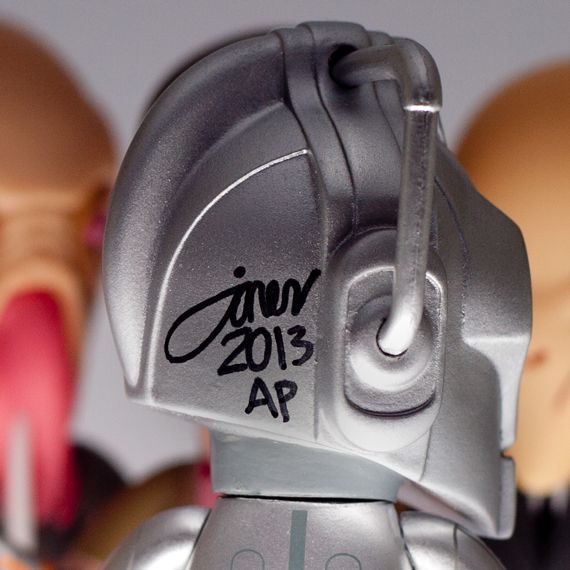 And while these are available now from retailers — like
Forbidden Planet
— for £7.99 (approx. $12.99) per blind box, you can also try to score JOnes's Artist Proof (AP) copies, of which there are a very small amount. First come, first served, e-mail JOnes at
matt [at] lunartik [dot] com
if interested.