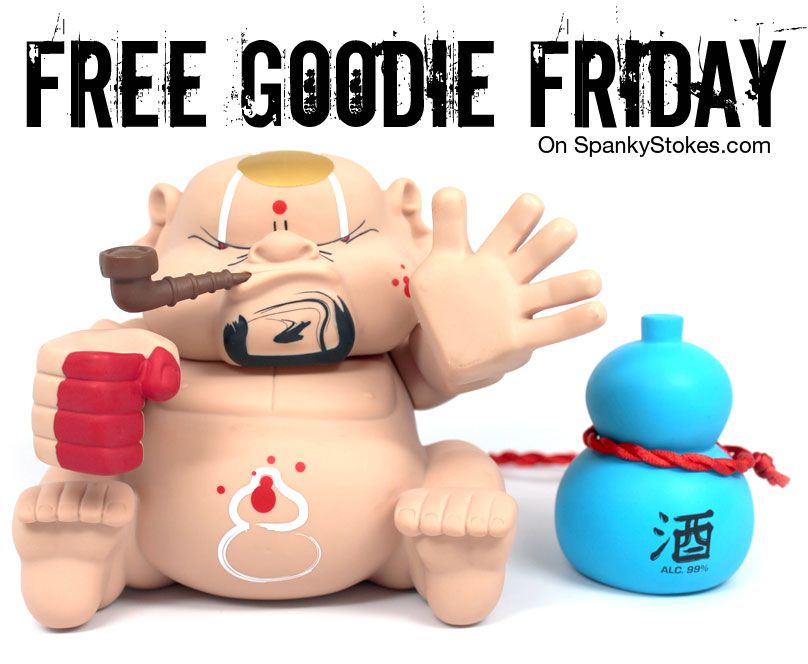 Heyyyy!!! it's finally Friday, and for those of you who don;t know, we on SpankyStokes.com like to do something special for all of our readers on most Fridays that we call FREE GOODIE FRIDAY!!! The title really explains the premise of this, you get stuff for FREE, and this week, we are working with the great folks over at
BeeFy & Co.
as they have donated one of their amazingly HUGE Bad Bad Buddha vinyl figures... the OG version, and this is one badass deity !! So do you wanna add this to your collection, keep reading...
1. First up you gotta give the folks over at Beefy & Co. a 'LIKE' over on their Facebook page HERE, and then while you are at it, give SpankyStokes a 'LIKE' on our page HERE as well!
2. Next, this one is for all you Instagram heads... visit the SpankyStokes Instagram page HERE and the Beefy & Co. page HERE - FOLLOW us... then find the photo with the figure that you see above... and then follow the instructions in it. Make sure to re-post the photo, and hashtag the re-posted photo with #SpankyBeefy - This is gonna be fun!!!!
3. Finally, just leave a comment below in this post telling us what type of drink Bad Bad Buddha has in that giant blue bottle of his... you can say an adult beverage, maybe a soda, water... it's up to you, but have fun, and be creative!
Now, each one of those steps is an entry... so if you do all of them, you get 5 entries!!!
This contest will end Sunday night 1/13/2013 at 10:00pm PST so you only have a few days to get your entries in
, after all is said and done, one lucky winner will be chosen at random and will have this figure shipped out to you! A big thanks goes out to
BeeFy & Co
once again for hosting this contest!!!
****UPDATE****
Alright folks... another awesome turnout for this contest, and it's apparent that you all LOVE free stuff!!! Thanks so much for doing each and every one of those steps, not only does it get you the opportunity to get cool stuff from cool companies, but it allows us to grow and offer up rad things like this on a weekly basis! So enough with the small talk... who won?!?! I plugged in ALL THE ENTRIES (whew) and picked 100% at random... with the winner being
Kim M.
(who has already been contacted by email) - CONGRATS!!! I want to thank you all once again for entering, and I want to thanks
BeeFy & Co.
for donating such an awesome prize!!!