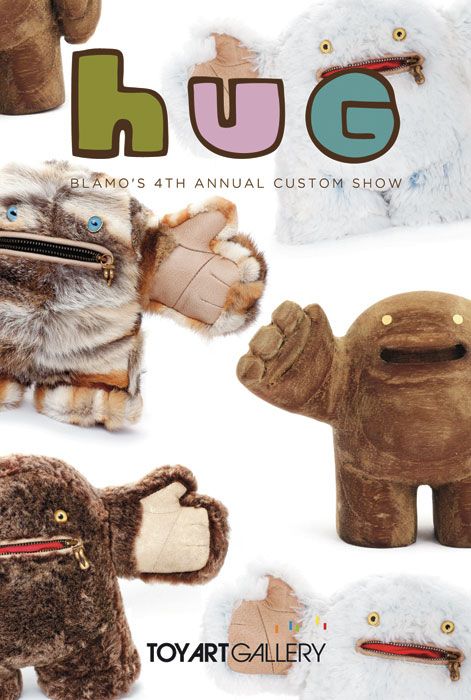 Toy Art Gallery
is very proud to present
Blamo Toy's
4th Annual Custom Show... and they have invited over 60 artists to lend their talents to Blamo's newest titan of cute, the HUG! This tiny little 2" resin figure will take on all kinds of different transformations... from custom paint jobs to completly sculpted on surfaces... this little guys will blow your mind! The show will be a HUG-stravaganza with the debut and release of all manner of HUGs, from the fuzzy Hug to the GIANT Hug to the brand-new Hug TEAK edition!

The Blamo Toys HUG Custom Show features the following artists:
Aleph Geddis (Blamo), Ardi Hermawan, Ayleen Gaspar (October Toys), Angry Woebots, Angie BabyVtec, Betso, Brent Nolasco, Brad Isdrab, Cliff Kirschner (Monstrehero), Chauskoskis, Cortlan Robertson (Blamo), Cody (Forgotten Saints), Chrystie Cappelli, Daniel Goffin, Dean Golez, Dave Correia, Dril One, Eric Frank (AFT), F+, Gary Ham, George Gaspar (October Toys), Fuller, Heather Hansen, Hints and Spices, Hugh Rose, Itokin Park, Jan Calleja, Jason Limon, Jay 222, Jan Hilmer, Johnathan Wayshack, Josh Mayhem, Joycelyn Marsh, Jryu, LASH, Leighton Kelly, Leecifer, Leslie Rainwatter, Lucien Shapiro, Luke Chueh, Marco Mejia, Monica Wallway, Mikie Graham (Blamo), Nathan Hamill, Noel Labelle, Ricardo Felix, Robert Bowen, Scott Tolleson, Sean Blay (Monstrehero), Scott Wilkowski, Spanky Stokes, Super Cooper, Shayne Maratea (Blamo), Spencer Hansen (Blamo), Triclops Studios, Task, Valley Dweller, We Kill You, Yosiell Lorenzo, and more
! I am STOKED to be apart of this show, and can't wait to reveal what I have been working on... and as you can see above, there is going to be some serious diversity! There will be plenty o' HUGS to go around... so if you are in or around the LA area, be sure to swing by TAG for this rad show! Join TAG, the Blamo Toys gang, and many of the featured artists on Saturday, December 15th from 7-10pm at Toy Art Gallery's showroom located at 7571 Melrose Ave. Hollywood CA 90046. The Blamo Toys HUG Custom Group Show runs through December 30th.