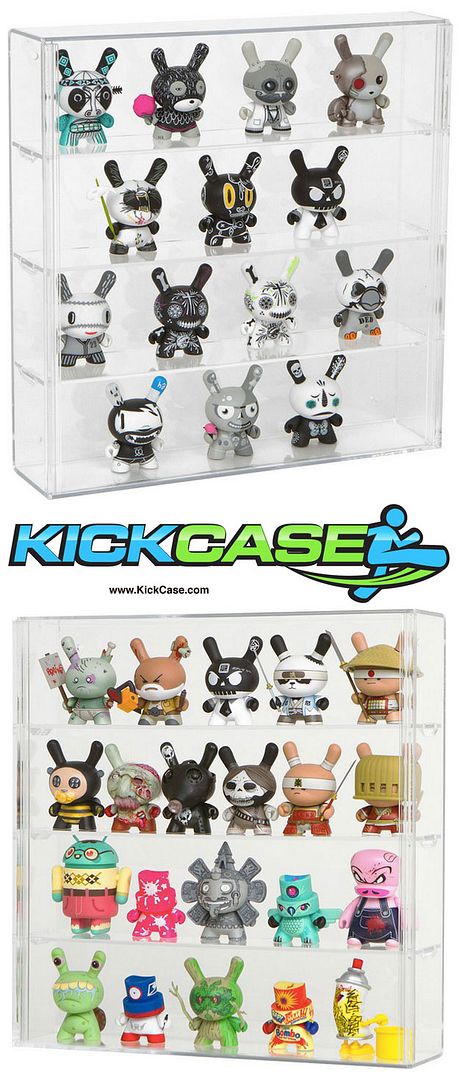 If you are like me, always looking for the next best way to display your collection, you know that it's tough to find products out there that fit our needs as designer toy collectors. Either the case is too small, not tall enough, or does not have enough space. Well, Drew Johnston ran into this same problem, and instead of writing it off... he took the initiative to start up a business that sells cases with us in mind... introducing
ToyKick
, a brand new wall mounted "Invisible Display Case" system!
Above you can see the basic case system that measures 13" x 13" and has 4 shelves with about 3.2" of vertical space each (give or take 1/8 inch for factory imperfections). That holds 24 Standard Dunnys. These display cases are meant for 3'' Vinyl figures, but there is also another case dubbed the "Splitter" that measures 13" x 8.75" x 5" and has a removable shelf that splits inside... making it possible to display 8" figures. These are fairly reasonably priced... and if you are in a pinch for space, or are just looking for something new... head on over
HERE
now and pick some up! I got a few, and will do a formal video review asap, in the meantime, you can head over
HERE
to see what others are saying about this cool new display system!