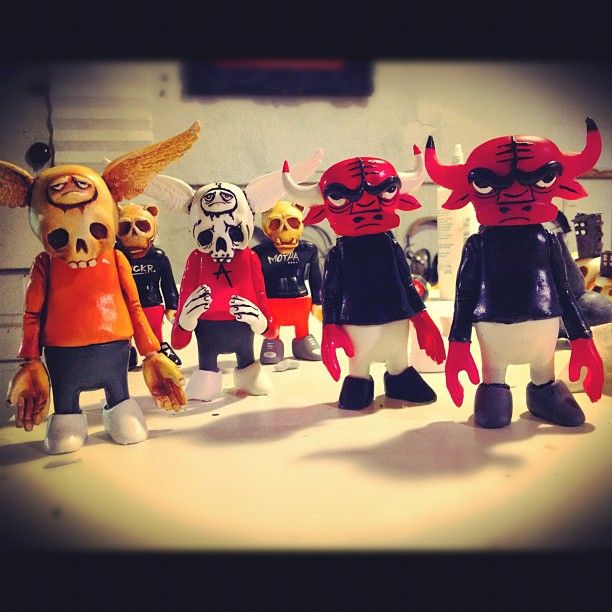 JC Rivera
delivers this series of hand-painted resin figures based on the Chicago Bulls for, appropriately enough, the Chicago-based
Toy Invaderz
show. I love the ones that incorporate Rivera's own "Condah Transporters" heads into the design. And is it just me or — way in the back — are there some gents with t-shirts that read "MOTHA" on one and some word that ends with "CKR" on the other… wonder what that could be (he said with a wink and nudge).
The "
Toy Invaderz
" Group Art Show is currently up and runs through July 30th at RGB Lounge, 1420 N. Milwaukee Ave., Chicago, IL 60622.
Participating artists include:
Jim Magee, Lynell Ingram, Task One, JC Rivera, Steven Patt, Shane Haddy, Alison Perez/Zukie, Czr Prz, Audrey Smith, James Fuller, Valerie Gudell, Nerviswrek, Frank Mysterio, Dave Webb, Dan DMS, Osiris Orion, Shawn Wigs, Mike Mendez/NemO, Chris Moore, Adam Pratt/Halfbad, Anjali Bahl, Rezorek, BJ Storms, Frank Diaz, Ciermuco Toys, Erica Holuboff, JFury, Giannina Gutierrez, Jeff Beck, Travis Lykins, Audrey Smith, Matt Dcay Melville, and Emmanuel L White Eagle.