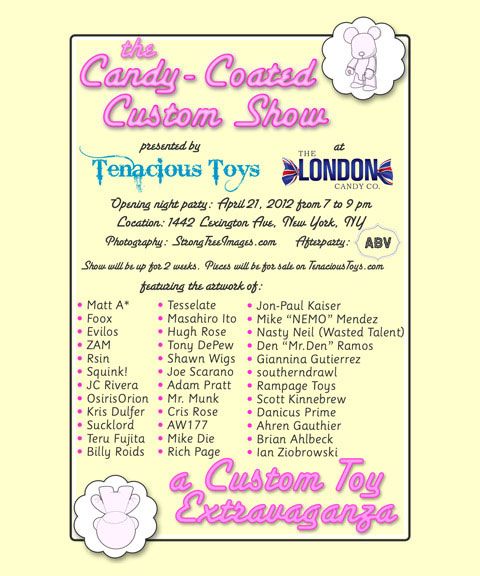 We posted about this show earlier this month
HERE
and up until now, things have not been 100% finial, but Benny from
Tenacious Toys
just sent word that things are moving along for his show dubbed "The Candy-Coated Custom Show" which is going to be displayed at
The London Candy Company
. This show is going to be EPIC... The final count for the roster is 36 artists: 6 from the UK and 30 mostly-local US artists. A huge number of those 30 US artists will be in attendance at the opening night show... and that massive list of artists, well... check em' out below!
Mike Mendez (NEMO), Rsin, Lance Lamont (Mr. Munk), Brian Ahlbeck, Cris Rose, Allen Wen (AW177), Southern Drawl, Jon Malmstedt (Rampage Toys), Mike Die, Shawn Wigs, Rich Page (Ume Toys), Matt Anderson (Matt A*), Foox, Nasty Neil (Wasted Talent), Den Ramos (Mr. Den), Danicus Prime, Scott Kinnebrew, Ahren Gauthier, Adam Pratt, Cjristopher Avalos (Evilos), Ian Ziobrowski, ZAM, Masahiro Ito, Hugh Rose, Giannina Gutierrez, Tony DePew, Squink!, JC Rivera, Robert Ingellis (OsirisOrion), Kris Dulfer (Kid Ink Industries), Sucklord, Joe Scarano, Teru Fujita, Ricky Rocques (Billy Roids), JonPaul Kaiser, and Tesselate!!!
"
The Candy-Coated Custom Show
" is an open platform show... so expect a little bit of everything under the sun to be customized! It opens on April 21st with a reception from 7 to 9PM at
The London Candy Company
, 1442 Lexington Ave. at 94th St., New York, NY 10128. The show will be available for viewing for two weeks after the opening night.