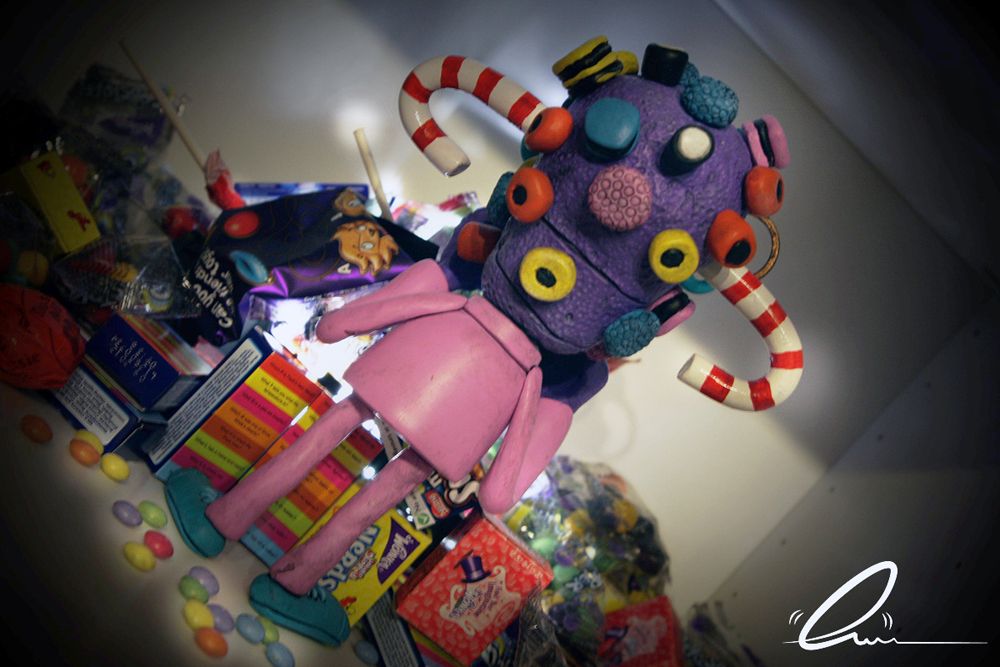 Richard Page aka
UME Toys
recently released the above picture of his sculpture "Bassett D Kay." While information is a bit scarce, it appears this piece is for a
Tenacious Toys
organized group show entitled "The Candy-Coated Custom Show," which will be displayed at an actual candy shop. Is it going out on a limb to assume that all the customs will be candy themed?
As you can see in the pic above, Page's contribution is a well-sculpted candy-gobbling fiend who, based on the surroundings, I'm guessing he's about 6" tall. That sweets covered head is just too much for me and this is only the backside of the character! Perhaps Page will share the disturbing front…
Oh no! That twisted tongue, oozing with sugary goo! Needless to say, Page's sculpt is great; yes, you can see uneven areas on the suit where the sculpey was rolled, but I happen to think it gives a more realistic feel to this otherwise surreal character. And a handlebar mustache with a monocle? Hell yes!
"The Candy-Coated Custom Show" opens on April 21st with a reception from 7 to 9PM at
The London Candy Company
, 1442 Lexington Ave. at 94th St., New York, NY 10128.