adFunture
provided their 3" blank Yoka bear vinyl figures and
DKE Toys
co-founders Dov Kelemer and Sarah Jo Marks found over 200 artists to participate in the Custom Yoka Show. Featuring work from 19 countries the show turns the quirky little panda into everything from a dirty thug to a sweet snail in this tremendous exhibition. Each original piece ranges from $25 to $600 and will be available for purchase at the start of the show Saturday morning.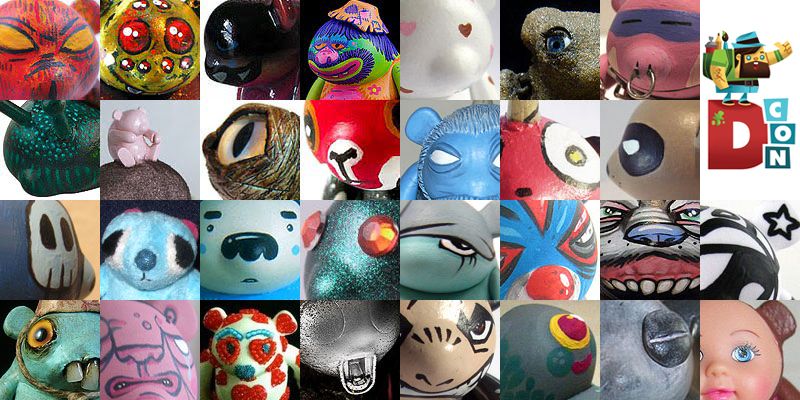 Set to premiere at
Designer Con
(formerly Vinyl Toy Network) in Pasadena, California on November 21, 2009 the show will travel from there to make more appearances around the country and possibly the world. Tour dates to be announced. Show features: Anthony Ausgang, Miss Mindy, Buff Monster, Jophen Stein, Heidi Kenney, Steven Daily, Snaggs, Arbito, Le Merde, Chris Ryniak, olive47, Dacosta!, Chino, SpankyStokes and literally hundreds more.
Starting at noon all children will be invited to play the Yoka scavenger hunt. Participants will search the exhibition for the answers to 10 clues and the first 100 players to complete the hunt will win a brand new unreleased Yoka from the upcoming series 1 (pic above). Also thanks to Andy from
ToysRevil
for putting together the Yoka collage pic.