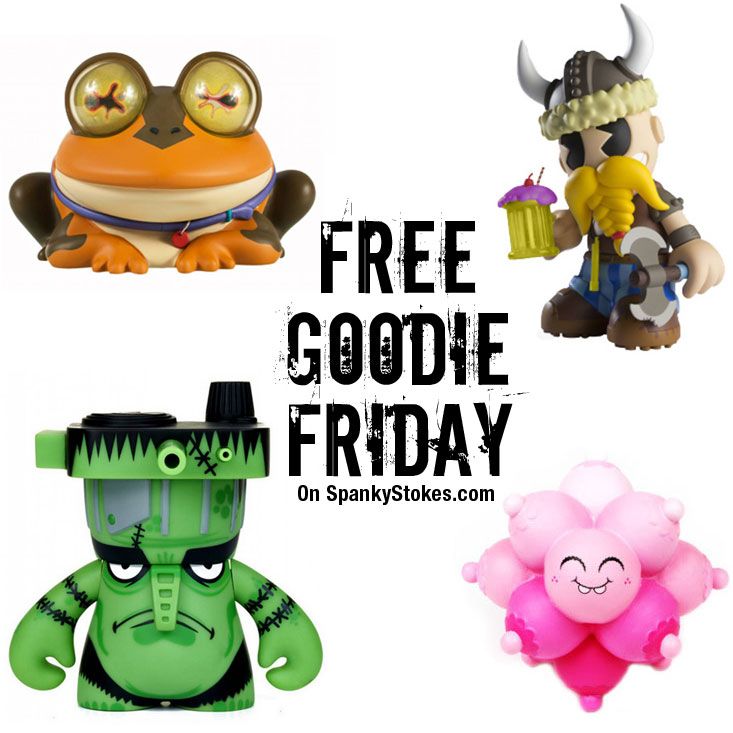 Whooooo!!!! Who's ready for another Free Goodie Friday... I know I am, and just like we promised last week, the great folks over at
Mintyfresh
have agreed once again to donate some seriously spectacular prizes to all of YOU, the loyal readers of SS.com. Oh, but instead of their being 1 winner like contests in the past, there will be 4 winners this time... WHAT!?!?! Yup... so what is being given away, well
1 x Boob Ball by Buff Monster, 1 x Franken Dudebox by Riccardo Bucchioni, 1 x Kid Olaf by Beast brothers, and 1 x Hypnotoad by Matt Groening... EPIC
!!! So do you wanna add these to your collection, keep reading...
1. First up you gotta give the folks over at Mintyfresh a follow on Twitter HERE and SpankyStokes.com a follow HERE then send out this tweet "

Gimme that FREE stash of vinyl toys from www.mintyfresh.eu, we love you @spankystokes and @WeAreMinty #SSMINTY

" You can just copy and paste the above quoted text, without the quotes of course :-) Make sure to include the #SSMINTY tag though!

2. Next, this one is for all you Instagram heads... visit the SpankyStokes Instagram page HERE and the Mintyfresh page HERE - FOLLOW us... then find the photo with the figures that you see above... and then follow the instructions in it. Make sure to re-post the photo, and hashtag the re-posted photo with #SpankyMinty - This is gonna be fun!!!!
Now, each one of those steps is an entry... so if you do all of them, you get 2 entries!!!
This contest will end Sunday night 12/16/2012 at 10:00pm PST so you only have a few days to get your entries in
, after all is said and done, four lucky winners will be chosen at random and will have these figures shipped out to you at random... you can't choose, so what you get will be a surprise! A big thanks goes out to
Mintyfresh
once again for such a great prize! One last thing... for those of you who did not win, Mintyfresh is offering up a discount code just for you... with code
SPANKY10
at checkout you
get a 10% discount on everything
(except pre-orders) and will be usable until 12/16/2012... the end of our next contest! So go
HERE
now, and get shopping!
****UPDATE****
Alright folks... thanks so much once again to all who entered... you all rock some serious socks!!! So let's get down to the real meat and potatoes of this post... the winners. We picked these folks completely at random, so if you won, you are totally lucky :-) The winners are
@daftnerdpride - Boob Ball, @middlekid93 - Franken Dudebox, @no_ham - Kid Olaf, and @azzakabazzas - Hypnotoad
!!! Congrats to all who won, and if you can, please email me your address to: spankystokes (at) gmail (dot) com, and I will forward that to the folks over at
Mintyfresh
... who I would like to thank sooooo much once again for the great contest!!! If you haven't yet, go check out their new and improved online store
HERE
, better yet, go buy something from them :-)