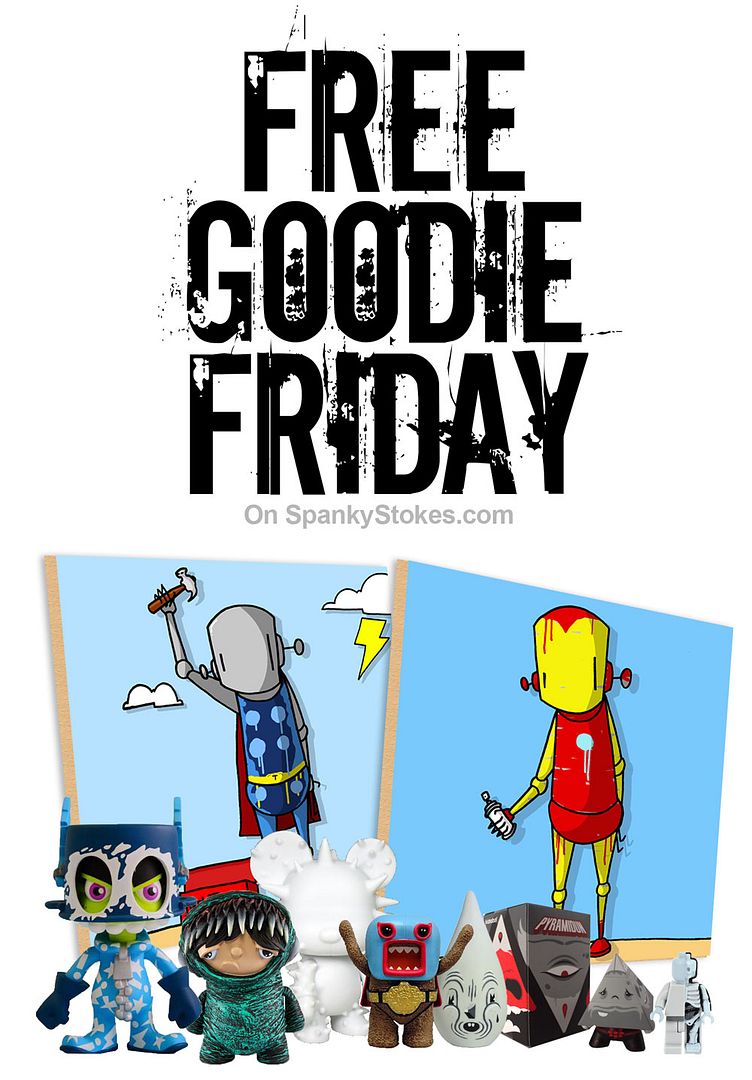 All of us over at SpankyStokes are super stoked for another giveaway, and what better way to kick off the end of the week then to have a seriously rad FREE GOODIE FRIDAY?!?!? Well... thanks to Rob Lumino (former owner of Suburban Vinyl) and his new weekly podcast '
For The Masses
', he put together an awesome prize package - giving you an amazing opportunity to win all of that stuff in the photo above... yup, all will be gifted to one lucky winner. So here is the rundown, you can win the following:
1 x "Be Your Own" Wood prints by ChrisRWK, 1 x "MORK:HERO" by MAD, 1 x "Green" Innerchild by Nerviswr3k, 1 x 5" DIY Spiky Qee, 1 x Lucha Domo, 1 x exclusive 'Rinaldo' Teardrop by Travis Lampe, 1 x Blind Box "Pyramidun" Dunny by Andrew Bell, and 1 x Mono "Micro Anatomic" by Jason Freeny
... WHAT?!?!?! Yup... you all have the chance to win all of this... AWESOME!!! So do you wanna add it to your collection, keep reading...
1. First, you gotta give the Blindbox Podcast a follow on Twitter HERE and SpankyStokes.com a follow HERE then send out this tweet "

I just entered to win an amazing prize package on http://www.spankystokes.com you should enter too #SpankyMasses

" You can just copy and paste the above quoted text, without the quotes of course :-) Make sure to include the #SpankyMasses tag though!

2. Next, this one is for all you Instagram heads... visit the SpankyStokes Instagram page HERE, 'Blindbox Podcast' page HERE, and 'For The Masses' page HERE - FOLLOW us... then find the photo with the figures that you see above... and then follow the instructions in it. Make sure to re-post the photo, and hashtag the re-posted photo with #SpankyMasses - This is gonna be fun!!!!

3. Finally, head on over to the SpankyStokes Facebook page HERE and 'LIKE' us, and then find this post HERE about the contest, and 'LIKE' it and then SHARE it!
Now, each one of those steps is an entry... so if you do all of them, you get 6 entries!!!
This contest will end Sunday night 6/26/2016 at 10:00pm PST so you only have a few days to get your entries in
, after all is said and done, one lucky winner will be chosen at random and will have this entire prize package shipped out to you... SWEET! A big thanks goes out to
Rob
for putting together this amazing prize package... now go and enter, ya turkey's!