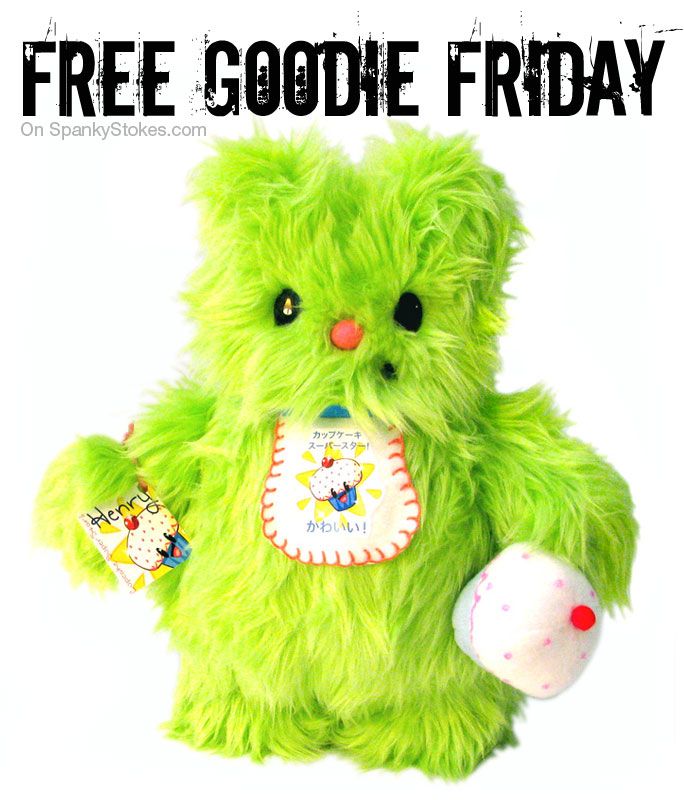 This week sure did drag on, but that's cool because today is FRIDAY and you know what that means... another
FREE GOODIE FRIDAY
- awwwww yeah!!! So what do we have for you all... well, it's obvious by the photo above, but we are stoked to announce a very special giveaway thanks to Amy W. of
Kokma Toys
as she has donated one of her handmade plush creations...
"Henry Cupcake Superstar"
!!! Henry is delighted to have his own cupcake! This green Japanese monster stands 13" tall and holds a vanilla scented sparkled cupcake. Henry is free standing. He is super soft and cuddly... and the kicker... the novelty of this toy is that the cupcake is vanilla scented. So is that rad or what?!?! A contest worth playing for... I think so! Wanna know how to win, keep reading...
1. First up, give Kokma Toys a follow and Twitter HERE... while you are at it, give SpankyStokes.com a follow HERE... then send out this tweet "

I just entered to win an adorable "Henry Cupcake Superstar" plush from @KokmaToys - Go to http://bit.ly/1tOrAy and enter now! #SSKOK

" You can just copy and paste the above quoted text, without the quotes of course, and make sure that it includes the #SSKOK tag as that is how we track you :-).
2. Next, head on over to the Kokma Toys Facebook page HERE, and 'LIKE' them, and then do the same for the SpankyStokes page HERE!
3. Finally, just leave a comment in this post telling us what you think the next scented flavor should be for a possible follow up to the Cupcake Superstar! This can be anything, Strawberry, Chocolate, Carmel... just have fun, and who knows... it could actually be picked and created!!! Only one comment please.
Now, each one of those steps is an entry... so if you do all of them, you get 5 entries!!! This contest will end
Sunday night 5/19/2013 at 10:00pm
so you only have
a few days
get your entries in
, after all is said and done, 1 lucky winner will be chosen at random and will have this awesome plush figure sent out their way! Good luck to all that enter, and a big thanks goes out to
Kokma Toys
for making this happen. Oh, and check out the
Kokma Toys
online store... there is all kinds of great stuff available to purchase!