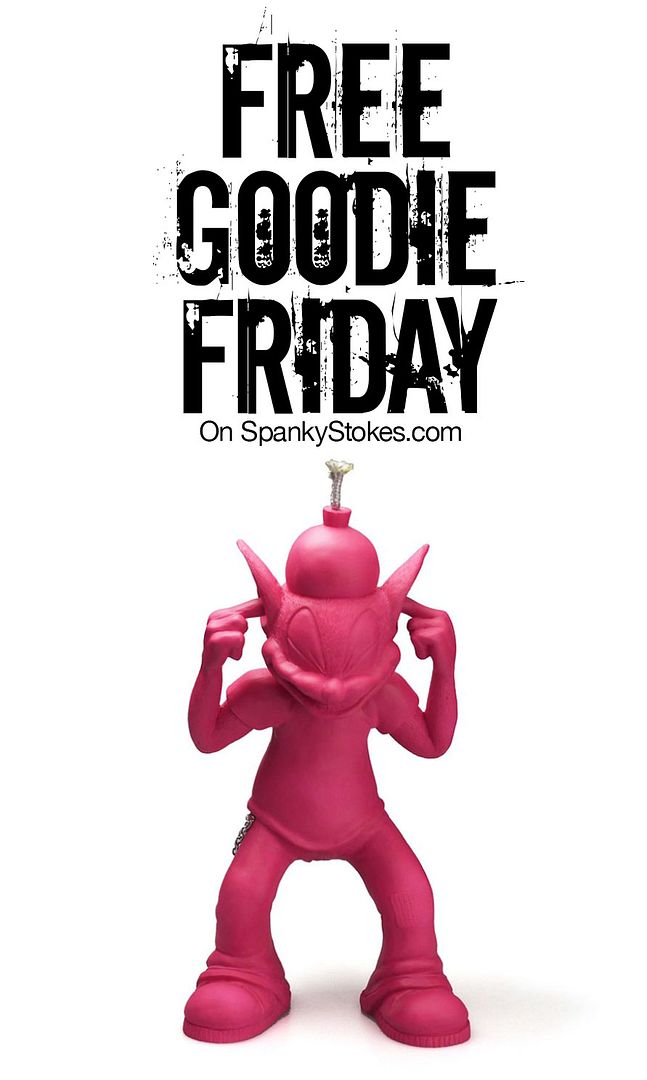 What what!!! Another Friday is here, and if you have visited this site before, you know how we do Friday's... we give stuff away as part of our awesome
FREE GOODIE FRIDAY
contest!!! This week, we are stoked to announce a very special giveaway thanks to the folks over at
Munky King
as they have donated
a super limited edition "Pink Panic" Bomb Cat resin art multiple designed by world renowned artist, Anthony Ausgang
... yeah, these 7.5" tall figures are limited to just 50 pieces worldwide, and you have a chance to win one...
for FREE
!!! A contest worth playing for... I think so! Wanna know how to win, keep reading...
1. First up, give Munky King a follow and Twitter HERE, and while you are at it, give SpankyStokes.com a follow HERE... then send out this tweet "

I just entered to win a rare resin "Pink Panic" Bomb Cat from @MunkyKingToys - Go to http://bit.ly/1tOrAy and enter #MunkySpanky

" You can just copy and paste the above quoted text, without the quotes of course, and make sure that it includes the #MunkySpanky tag as that is how we track you :-).
2. Next, head on over to the Munky King Facebook page HERE and 'LIKE' them, and then do the same for the SpankyStokes page HERE, then 'LIKE' and 'SHARE' this post HERE on your Facebook!
3. Finally, this one is for all you Instagram heads... visit the SpankyStokes Instagram page HERE and the Munky King page HERE- FOLLOW us... then find the photo with the figure that you see above... and then follow the instructions in it. Make sure to re-post the photo, and hashtag the re-posted photo with #MunkySpanky - This is gonna be fun!!!!
Now, each one of those steps is an entry... so if you do all of them, you get 6 entries!!! This contest will end
Monday night 04/21/2014 at 10:00pm
so you only have
a few days
get your entries in
, after all is said and done, 1 lucky winners will be chosen at random and will have this rad figure sent their way! Good luck to all that enter, and a big thanks goes out to the good folks over at
Munky King
for donating this rad figure!