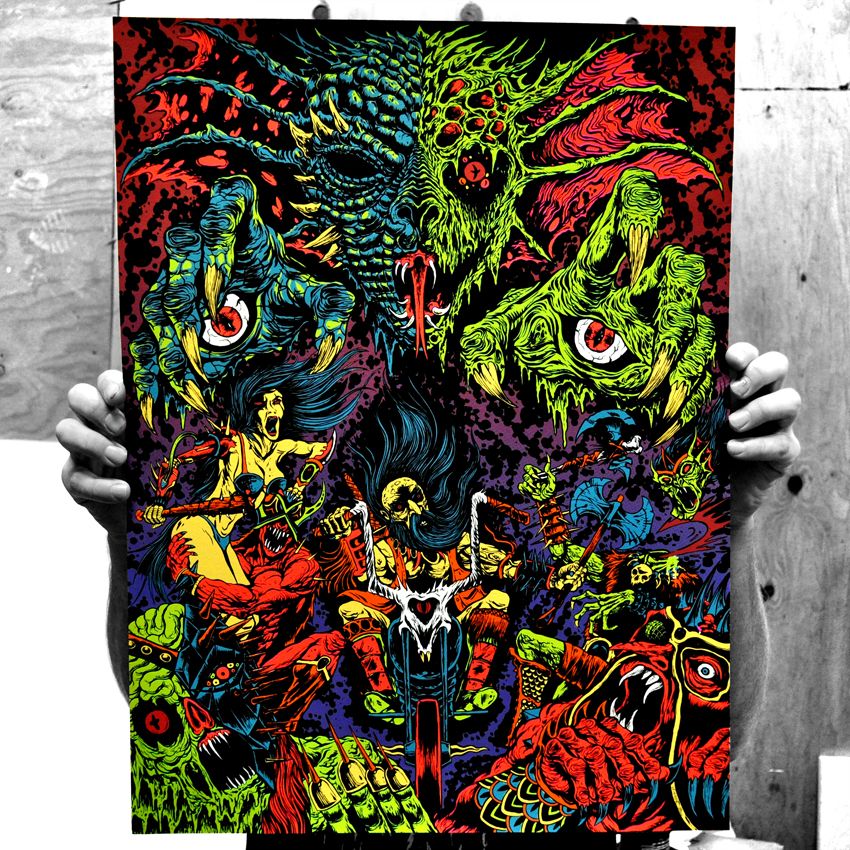 "Space Biker," hauling ass through space on his trusty hog while the hordes of intergalactic hell chase him for his soul, his woman, and his ride! Wouldn't you want to see that movie? Damn right, I'd want to see that movie! Though not coming to a theatre near you anytime soon, thanks to the skillful art of
Skinner
were blessed with an 8-color screen print illustration depicting "Space Biker" and his plights. Each of these 18" × 24" hand-pulled prints uses a black light like effect on the inks so that the included Chroma Depth Glasses really add to the interdimensional experience of these French's starch white 140 weight paper pieces of art! In addition to the glasses, each one also comes with one pack of 10 silkscreened stickers and one Butcher Kings art booklet.
Thanks to manhandling by FedEx, there are two versions of this print: the $100 undamaged run limited to an edition of 39 copies and the $80 slightly damaged (small corner damage to one or two of the corners) run limited to an edition of 61 copies! As an added bonus, the first NINE people to buy the $100 version will receive a free original 5" × 7" mini painting with their order. These beauts are being released in
Skinner's online shop
on Monday, August 5th, 2013 at 12 Noon Pacific time.