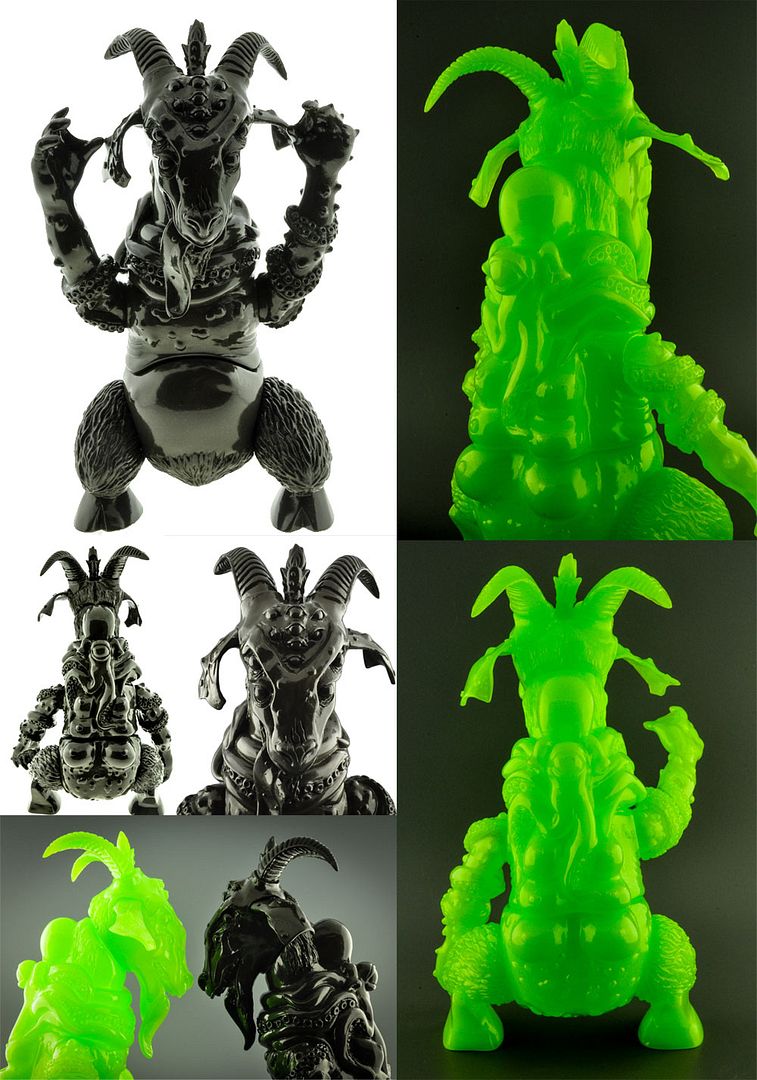 Behold: Shub Zeroth is here!!!! At long last, he—from beyond—is here. Shub Zeroth arrives in his first full form in two permutations: Release.1-1 Black rub 'Glack' vinyl ($100) and Release.1-2 Unpainted, Slime vinyl ($80)!!! These rad figure that made their prototype debut at last years SDCC 2012 (our coverage
HERE
), created by Justin "
Hateball
" Jewett and
Brian Ewing
, these figures will be made available at 1pm on Thursday 7/18 during the Metacrypt event at the Lulubell Toys booth #5045, and any remaining items will be made available at Brian Ewing's booth #4503 [in the 'Donato Arts' block]) through Sunday or while supplies last.
Also up for grabs will be Release.01 [Metatype] in Gray and Red. A limited quantity of standalone Shub Zeroth heads (articulated at both horns, both ears, and torch) will also be on offer and available for purchase ($25) for the duration of Comicon, or while supplies last. The release during last year's NYCC was so successful that they decided to repeat the offer, this time in complete color versions in both gray and red. Available Wed-Sun at Brian Ewing's booth (#4503) while supplies last. On top of that news, there will pe t-shirts and prints available as well... so much good stuff!!! Oh, and if that's not enough, the Metacrypt folks will be signing at Lulubell Toys booth #5405 on Thursday 7/18 at 1pm... so swing by and meet Justin and Brian!