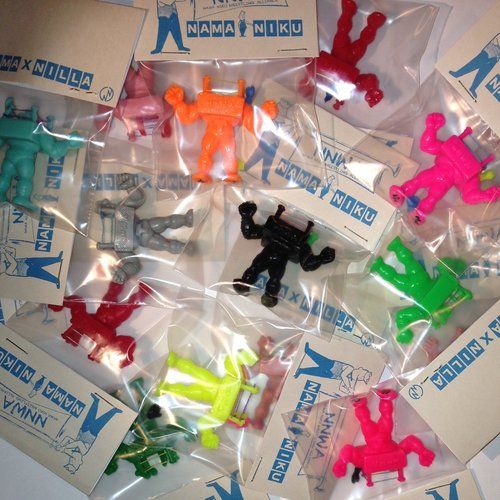 Clutter's
Toy Mafia
event in June features a line-up that will have designer toy collectors drooling… And today we're revealing an assortment of "
Top Rope
" figures by
Nama Niku
! Designed by Nama Niku and cast by
Eric Nilla
, these Namakeshi flexible rubber figures are part of the NNWA… the Nama Niku Wrestling Alliance! Named "Top Rope," this 1.5" tall figure is being made available for quite possibly the last time. This kit-bashed M.U.S.C.L.E figure features an originally sculpted wrestling ring torso that has real ropes threaded through it. And each one comes with micro-sized versions of the Mud Man and The Claw figures as well as a funky vintage Kinnikuman wrestling scene card! Limited to only 16 pieces, each one is cast in a completely unique color exclusive to this Toy Mafia event! Remaining pieces, if any, will be available in Clutter's web store on Monday, June 24th, 2013!
Source [
Toy Mafia PRESS
]