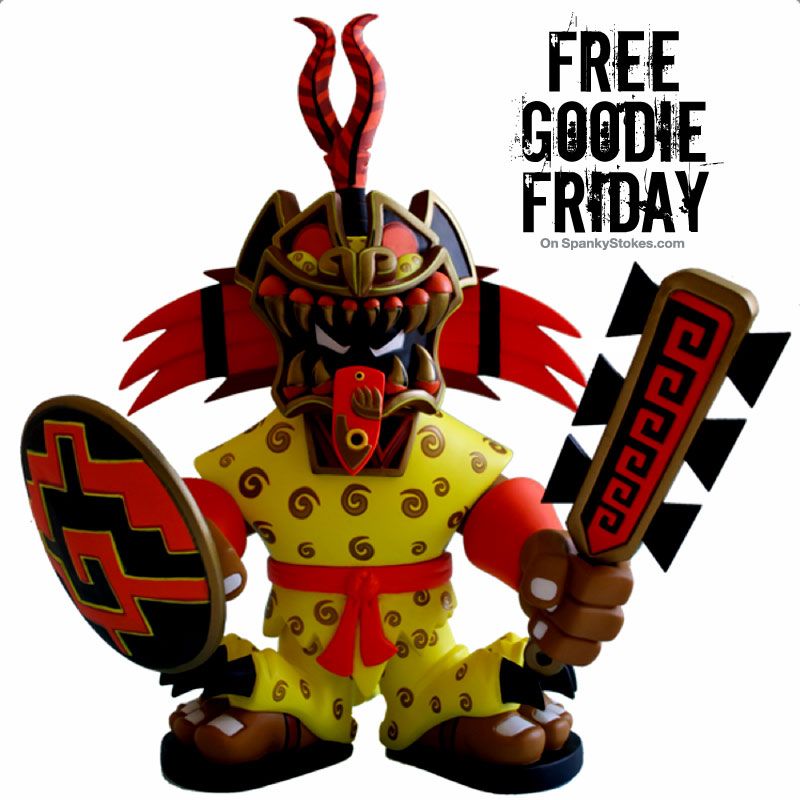 Whooooo!!!! Who's ready for another Free Goodie Friday... I know I am, and we have an AWESOME giveaway for you this week thanks to the great folks over at
Vinyl Riot
as they have agreed once again to donate an awesome prize for 1 lucky SpankyStokes.com reader... and seriously, this is a HUGE prize!!! They have donated the awesome 12" tall
Jaguar Knight vinyl figure
designed by Jesse Hernandez and produced by Pobber Toys... and this weapon-wielding warrior from the ancient Aztec military rocking the "OG" paint application can be yours... all you gotta do is follow a few simple steps to enter! Is it worth your while... of course it is!!! So do you wanna add this to your collection, keep reading...
1. First up you gotta give the folks over at Vinyl Riot a follow on Twitter HERE and SpankyStokes.com a follow HERE then send out this tweet "

I just entered to win an "OG" Jaguar Knight vinyl figure from @VinylRiotToys - you should enter too http://alturl.com/ie5xw #SSRIOT

" You can just copy and paste the above quoted text, without the quotes of course :-) Make sure to include the #SSRIOT tag though!

2. Next, this one is for all you Instagram heads... visit the SpankyStokes Instagram page HERE and the Vinyl Riot page HERE - FOLLOW us... then find the photo with the figure that you see above... and then follow the instructions in it. Make sure to re-post the photo, and hashtag the re-posted photo with #RiotSpanky - This is gonna be fun!!!!

3. Finally, head on over to the Vinyl Riot website HERE, scroll down to the bottom of the page, and subscribe to their newsletter. They promise not to spam you, rather, they will send info about exclusive offers and figures!
Now, each one of those steps is an entry... so if you do all of them, you get 5 entries!!!
This contest will end Monday night 6/17/2013 at 10:00pm PST so you only have a few days to get your entries in
, after all is said and done, one lucky winner will be chosen at random and will have this rad figure shipped out to you... SWEET! A big thanks goes out to
Vinyl Riot
once again for such a great prize!
Thank you all so much for entering, and wow... what a turnout! It's because of you all we are able to continue to offer these awesome prizes... and we have so many great ones coming up, just like the one this past week from
Vinyl Riot!
So, let's get down to it... who won! Well, picked totally at random, and once again from our Instagram portion of the giveaway, the winner ended up being Angus F. aka
ChuggaTheTrain
- CONGRATS!!! Thank you all once again for entering, and an even bigger thanks to
Vinyl Riot
for such an awesome giveaway! Go support them folks, go buy from their online store!!!