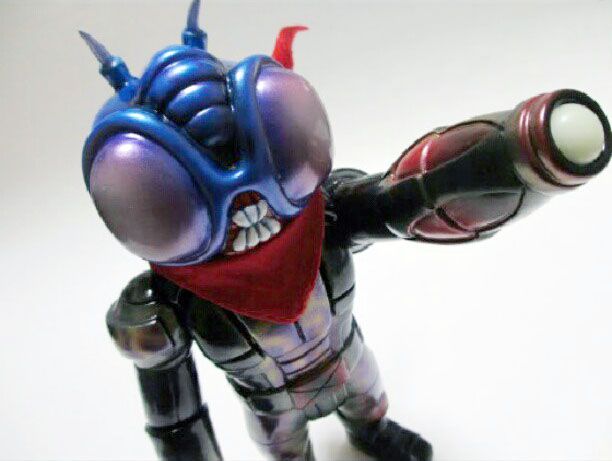 Wow,
GOCCODO
truly stuns you with this beautifully crafted
Real x Head
custom figure. A one-off piece created for the
previously announced
upcoming neo-kaiju & sofubi show at
Clutter
, this is a brilliant mixture of Japanese vinyl and resin, reformed into some original that looks perfect. With only one these having been made, you should join
Clutter's Gallery Preview List
— which allows recipients to purchase pieces prior to the opening — if you have any hope of snagging one from the show.
"Monsters from the Island,"
a group neo-kaiju & sofubi show guest curated by Monster Island NYC, will open on Saturday, March 9th with a reception from 6-9PM and be available for viewing through April 6th, 2013 at
The Clutter Gallery
, 163 Main St., Beacon, NY 12508.
Participating artists include:
BLObPUS, Blurble, Bob Conge / Plaseebo, Brian Flynn, Buff Monster, Bwana Spoons, Dski One, Few Many, FigLab, Goccodo, Guumon, Healeymade, Ilanena, Josh Herbolsheimer, Konatsu, L'amour Supreme, Leecifer, Mark Nagata, Mechavirus, Monsterarm, Mutant Vinyl Hardcore, NagNagNag, PaulKaiju, Rampage Toys, Splurrt, Star Case, Toys Are Sanity, Uamou and Velocitron.