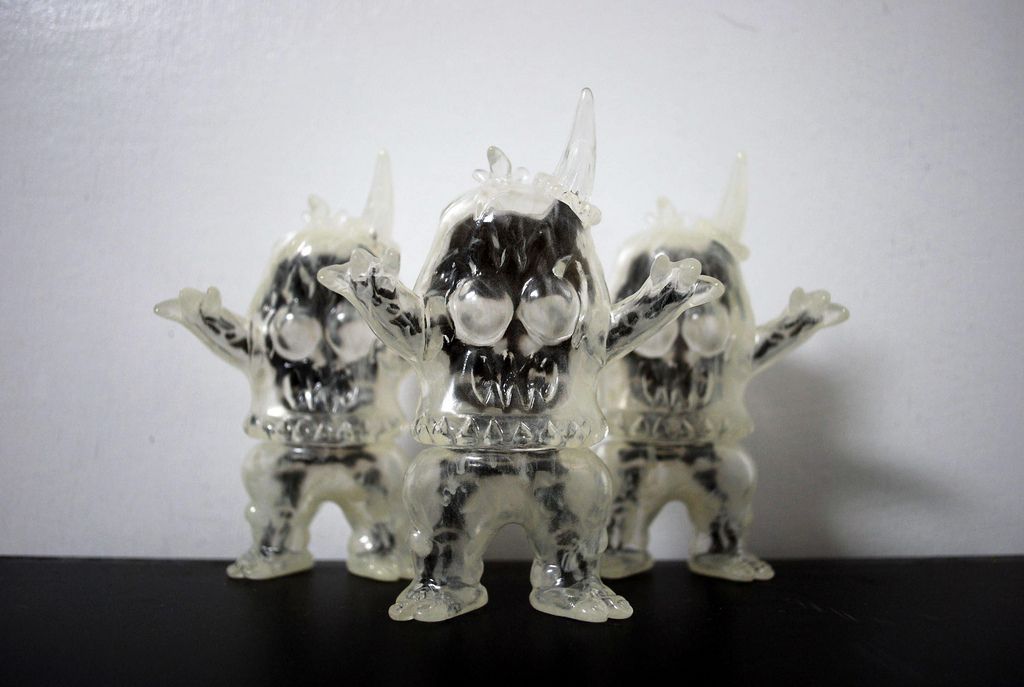 While we're all still reeling from
yesterday's revelation
that not only would Shigeru (creator of NagNagNag) be participating in
Clutter
's upcoming neo-kaiju & sofubi show but would actually be present for the opening reception, it shouldn't take away from the fact that there are sure to be some amazing pieces by the bevy of talented artists involved. Take, for instance, the "Spectral X-Ray Ugly Unicorns" by
Rampage Toys
! Each one is cast in marbled clear glow-in-the-dark sofubi and has a skeletal insert inside. No word on pricing for these fantastic pieces, but it certainly appears there will be three of them!
"Monsters from the Island,"
a group neo-kaiju & sofubi show guest curated by Monster Island NYC, will open on Saturday, March 9th with a reception from 6-9PM and be available for viewing through April 6th, 2013 at
The Clutter Gallery
, 163 Main St., Beacon, NY 12508.
Participating artists include:
BLObPUS, Blurble, Bob Conge / Plaseebo, Brian Flynn, Buff Monster, Bwana Spoons, Dski One, Few Many, FigLab, Goccodo, Guumon, Healeymade, Ilanena, Josh Herbolsheimer, Konatsu, L'amour Supreme, Leecifer, Mark Nagata, Mechavirus, Monsterarm, Mutant Vinyl Hardcore, NagNagNag, PaulKaiju, Rampage Toys, Splurrt, Star Case, Toys Are Sanity, Uamou and Velocitron