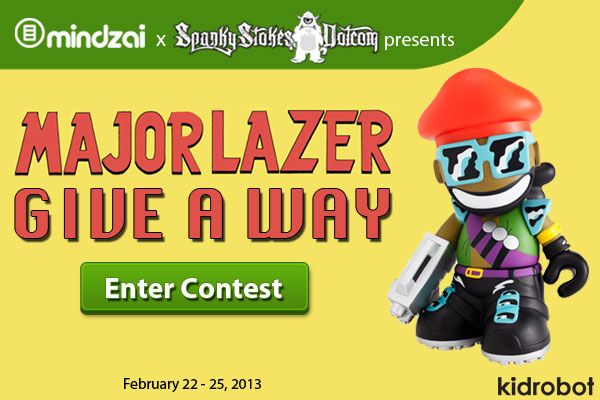 It's Friday... and for those of you who visit SS.com on a regular basis know what that means...
FREE GOODIE FRIDAY
where we give back to the community, because... well, we love you guys, and can't thank you enough for the continued support... now enough with the mushy stuff, and onto the meat and potatoes of this post... this week we have teamed up with the great folks over at
Mindzai
once again to giveaway one EPIC prize...
a brand new Kidrobot Major Lazer mascot figure
!
Mindzai.com
has been one of the slickest websites out there in the designer toy space. They were a finalist in last years Designer Toy Awards for best online toy store and although they didn't take the trophy home... they did a valiant job in their very first year of existence. It was only one year ago that they launched and with this beautiful new and recent design update to their website, an expanding selection of products, it's clear that they are here to stay in this industry. So is this a contest worth playing for... I think so! Wanna know how to win, keep reading...
1. First up, give Mindzai a follow on Twitter HERE, and give SpankyStokes.com a follow HERE... then send out this tweet "

I just entered to win a brand new @kidrobot Major Lazer mascot figure from @Mindzai - Go to http://bit.ly/1tOrAy and enter now! #SSMIDZ

" You can just copy and paste the above quoted text, without the quotes of course, and make sure that it includes the #SSMIDZ tag as that is how we track you :-) .

2. Finally, head on over HERE, to the specially constructed contest page.

Hit the 'LIKE' button, and then fill out the survey.

It just asks a few questions, and gives us your email (

which we promise not to spam you with, just give you good news every once in a while

)... and that's it... really simple, and really fun!
Now, each one of those steps is an entry... so if you do all of them, the more entries you have in the contest!!! This will end
Monday night 02/25/2013 at 10:00pm
so you only have
a few days
get your entries in
, af